01.12.2017 | Research article | Ausgabe 1/2017 Open Access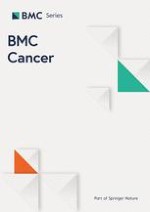 The effects of the location of cancer stem cell marker CD133 on the prognosis of hepatocellular carcinoma patients
Zeitschrift:
Autoren:

Yao-Li Chen, Ping-Yi Lin, Ying-Zi Ming, Wei-Chieh Huang, Rong-Fu Chen, Po-Ming Chen, Pei-Yi Chu
Wichtige Hinweise
Electronic supplementary material
The online version of this article (doi:
10.​1186/​s12885-017-3460-9
) contains supplementary material, which is available to authorized users.
Abbreviations
AN
Adjacent normal liver tissue
EMT
Epithelial–mesenchymal transition
Background
In this study, we studied 119 tumor specimens and the paired adjacent normal tissue that had not been exposed to chemotherapy or targeted therapy drugs before surgery, and we examined CD133 expression levels and location using immunohistochemistry. We further used Kaplan–Meier and Cox regression analysis to investigate whether the expression levels and location of CD133 and clinicopathologic parameters can be of independent prognostic value in HCC cases.
Methods
Patients
Primary tumor tissues were obtained from 119 HCC patients receiving surgical resection in Changhua Christian Hospital from July 2011 to November 2013. The initial characteristics and clinical outcomes were collected until death, censorship or loss of follow-up. For each patient, representative tissue cores of the HCC tumor parts were carefully collected and made into tissue microarray. This study was approved by the ethics committee of the Institutional Review Board of Changhua Christian Hospital. Informed consents were agreed from 119 HCC patients in accordance with the Declaration of Helsinki and were obtained at the time of their donation. The age of all patients was between 31 and 82 years (mean ± SD 63.7 ± 10.2). Clinical parameters and overall survival data were collected from chart review. The survival time was defined to be the period of time from the date of primary surgery to the date of death. The median follow-up time after surgery was 982 days and the median overall survival of all patients was 1092 days. During this survey, 39 patients died. On the basis of the follow-up data, 15 patients relapsed.
Immunohistochemistry and scoring
Immunohistochemistry (IHC) was used to detect CD133 protein expression. The CD133 antibody (orb18124) was purchased from Biorbyt (USA). Paraffin-embedded HCC tissue sections (4-μm) on poly-1-lysine-coated slides were deparaffinized and rinsed with 10 mM Tris-HCl (pH 7.4) and 150 mM sodium chloride. Peroxidase was quenched with methanol and 3% hydrogen peroxide. Slides were then placed in 10 mM citrate buffer (pH 6.0) at 100 °C for 20 min in a pressurized heating chamber. After incubation with 1: 200 dilution of CD133 antibody (orb18124) for 1 h at room temperature, slides were thoroughly washed three times with phosphate-buffered salinen (PBS). Bound antibodies were detected using the EnVision Detection Systems Peroxidase/DAB, Rabbit/Mouse kit (Dako, Glostrup, Denmark). The slides were then counterstained with hematoxylin. At last, the slides were photographed with the microscope (BX50, OLYMPUS, Japan). Negative controls were obtained by performing all of the IHC steps, but leaving out the primary antibody. The immunohistochemical staining scores were defined as described previously [
21
] and the intensities of signals were evaluated by a board certified pathologist. The immunostaining scores criteria was defined as the cell staining intensity (0 = nil; 1 = weak; 2 = moderate; and 3 = strong) multiplied by the percentage of stained cells (0–100%), resulting in scores from 0 to 300. A score higher than mean score were defined as 'high' immunostaining, while a score equal to or lower than mean score was categorized as 'low' in tumor. Although CD133 is known to show both cytoplasmic and membranous staining, our results revealed that highly nuclear CD133 was observed using immunohistochemistry. Please also have a look at
http://​www.​proteinatlas.​org/​ENSG00000007062-PROM1/​cancer/​tissue/​liver+cancer#img?​utm_​source=​custserv&​utm_​medium=​email&​utm_​campaign=​CSE
.
Of a hepatocellular carcinoma sample, and the CD133 antibody (orb18124, Biorbyt) is used to recognize an epitope corresponding to residues NHQVRTRIKRSRKLADSNFKD (Additional file
1
: Figure S1).
Cell lines
The liver cancer cell lines HepG2 and PLC-5 were obtained from the National Health Research Institutes (Taiwan) and cultured in Dulbecco's modified Eagle's medium (DMEM; Life Technologies) containing 0.1 mM sodium pyruvate, 10% FBS, 2 mM l-glutamine, 100 IU/mL penicillin, and 100 μg/mL streptomycin. Briefly, 5 × 10 5 cells were respectively transfected with 10 μg of the lentiviral vector pLKO (control) or pLKO/shCD133 (target sequence GCGTCTTCCTATTCAGGATAT) which were purchased from the National RNAi Core Facility at Academic Sinica, Taiwan. After 48 h, CD133 expression was confirmed by CD133 antibody (orb18124) for Western blotting and β-actin was used as a loading control.
Western blotting
After whole cell protein extracts were prepared in ice-cold RIPA lysis buffer and quantified by BCA (bicinchoninic acid) protein assay, equivalent amounts of cell lysates were separated by 8–12% SDS polyacrylamide gel electrophoresis and transferred onto a polyvinylidene difluoride (PVDF) membrane, which was then blocked in 5% non-fat milk in PBST (
1X Phosphate Buffered Saline Tween-20
) and probed overnight at 4 °C with the primary antibodies against human CD133 antibody (1: 1000, orb18124, Biorbyt) and β-actin (Sigma-Aldrich Corp., St. Louis, MO, USA). Anti-mouse or anti-rabbit IgG conjugated to horseradish peroxidase was used as the secondary antibody for detection using an enhanced chemiluminescence (ECL) western blot detection system (Millipore, Bedford, MA, USA), and band intensities were quantified by densitometry (Digital Protein DNA Imagineware, Huntington Station, NY).
Immunofluorescence
2.5 × 10 4 PLC-5/PLKO and PLC-5/shCD133 cells were respectively seeded on cover slips for 150 mins in complete medium and then fixed with 4% formaldehyde for 5 min at room temperature prior to immunofluoresence assay. Cells were washed with phosphate-buffered saline three times, treated with 0.1% Triton for 10 min, and blocked with 5% goat serum for 1 h, cells were then incubated with CD133 antibody (orb18124, Biorbyt) at 200X dilution at 4 °C overnight followed by binding with Alexa Flour 488 goat anti-Rabbit for green fluorescence by Leica DM2500 Upright Fluorescence Microscope.
Statistical analysis
Paired-samples
t
-test and Chi-square analysis were conducted using SPSS software (Version 18.0 SPSS Inc., Chicago, IL, USA) for the relationship of clinical parameters with cytoplasmic and nuclear CD133 in hepatocellular carcinoma patients. Survival curves were plotted using the Kaplan–Meier method, survival data were analyzed using the log-rank test and variables related to survival were analyzed using Cox's proportional hazards regression model for the influences of clinical characteristics and cytoplasmic and nuclear CD133 expression on OS and RFS in HCC patients. A value of P less than 0.05 was considered to be statistically significant.
Results
Discussion
Collectively, our findings revealed that nuclear CD133 could confer good clinical outcomes in HCC patients regardless of cytoplasmic expression and that cytoplasmic CD133 was related to poor prognosis, which is a result that agreed with previous studies. Among these patients, the C+/N- group had the worst OS and RFS rates. Therefore, the blockage of cytoplasmic CD133 or the increase of nuclear CD133 is a beneficial strategy for targeted therapy.
Conclusions
Our study revealed that HCC patients who highly expressed cytoplasmic CD133 had poorer clinical outcomes than those who lowly expressed cytoplasmic CD133. Conversely, HCC patients who highly expressed nuclear CD133 had better clinical outcomes than those who lowly expressed nuclear CD133. Collectively, the C+/N- group had the worst prognosis of all the studied groups.
Acknowledgements
Not applicable.
Funding
This research was supported by grants 102–2321-B-750-001- and 103–2314-B-442-002-MY3 from the Ministry of Science and Technology, Taiwan, and RB15001 and RB16001 from Show Chwan Memorial Hospital, Taiwan. The funding agency has no role in the design, collection, analysis, interpretation of data or writing of this manuscript.
Availability of data and materials
The dataset and materials presented in this investigation is available by request from the corresponding author.
Ethics approval and consent to participate
This study was approved by the ethics committee of the Changhua Christian Hospital, Taiwan (approval number: 120504) and written informed consent was obtained by all patients.
Consent for publication
Not applicable.
Competing interests
The authors declare that they have no competing interests.
Publisher's Note
Springer Nature remains neutral with regard to jurisdictional claims in published maps and institutional affiliations.
Open Access
This article is distributed under the terms of the Creative Commons Attribution 4.0 International License (
http://​creativecommons.​org/​licenses/​by/​4.​0/​
), which permits unrestricted use, distribution, and reproduction in any medium, provided you give appropriate credit to the original author(s) and the source, provide a link to the Creative Commons license, and indicate if changes were made. The Creative Commons Public Domain Dedication waiver (
http://​creativecommons.​org/​publicdomain/​zero/​1.​0/​
) applies to the data made available in this article, unless otherwise stated.