22.02.2018 | Original Article | Ausgabe 3/2018 Open Access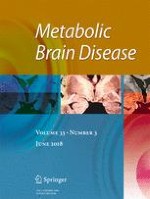 The effects of tramadol administration on hippocampal cell apoptosis, learning and memory in adult rats and neuroprotective effects of crocin
Zeitschrift:
Autoren:

Farideh Baghishani, Abbas Mohammadipour, Hossain Hosseinzadeh, Mahmoud Hosseini, Alireza Ebrahimzadeh-bideskan
Abstract
Tramadol, a frequently used pain reliever drug, present neurotoxic effects associated to cognitive dysfunction. Moreover, crocin has been reported to have neuroprotective effects. The aim of this study was to assess crocin's capacity to protect learning, and memory abilities on tramadol-treated rats. A total of 35 rats were divided into five groups: Control, Saline, tramadol (50 mg/kg), tramadol + crocin(30 mg/kg), crocin groups and treated orally for 28 consecutive days. Morris water maze (MWM) and passive avoidance (PA) tests were done, followed by dissection of the rat's brains for toluidine blue and TUNEL staining. In MWM test, tramadol group spent lower time and traveled shorter distance in the target quadrant (Q1)
(P < 0.05)
. On the other side, the traveled distance in tramadol-crocin group was higher than tramadol
(P < 0.05)
. In PA test, both the delay for entering the dark, and the total time spent in the light compartment decreased in tramadol comparing to the control group
(P < 0.05)
, while it increased in tramadol-crocin compared with the tramadol group
(P < 0.05)
. In tramadol-treated animals, the dark neurons (DNs) and apoptotic cells in CA1, CA3 and DG increased
(P < 0.05)
, while concurrent intake of crocin decreased the number of DNs and apoptotic cells in these areas
(P < 0.05)
. Crocin was able to improve learning and memory of tramadol-treated rats and also decreased DNs and apoptotic cells in the hippocampus. Considering these results, the potential capacity of crocin for decreasing side effects of tramadol on the nervous system is suggested.