01.12.2018 | Research | Ausgabe 1/2018 Open Access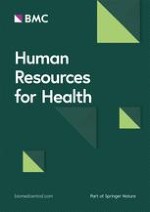 The effects of workplace respect and violence on nurses' job satisfaction in Ghana: a cross-sectional survey
Zeitschrift:
Autor:

Isaac Mensah Boafo
Abstract
Background
Studies have established the negative effects of workplace disrespect and violence on the personal and professional well-being of nurses. In spite of this, only a few have directly investigated the effects of these issues on nurses' job satisfaction. In Africa, research on nurses' job satisfaction continues to focus largely on economic factors. The aim of this paper was, therefore, to investigate the impact of the non-economic factors of workplace violence and respect on the job satisfaction levels of nurses in Ghana.
Methods
The study employed a cross-sectional questionnaire survey. It involved 592 qualified practising nurses working in public hospitals in Ghana. Data were collected between September 2013 and April 2014.
Results
The results showed that, overall, nurses were neither satisfied nor dissatisfied with their jobs (
M =
3.19, SD = .54). More than half (52.7%) of the participants had been abused verbally, and 12% had been sexually harassed in the 12 months prior to the study. The majority of nurses, however, believed they were respected at the workplace (
M =
3.77, SD = .70, Mode = 4). Multiple regression analyses showed that verbal abuse and perceived respect were statistically significant predictors of nurses' job satisfaction. Nurses who experienced verbal abuse and low level of respect were more likely to report low job satisfaction scores.
Conclusion
It is concluded that non-financial strategies such as safe work environments which are devoid of workplace violence may enhance nurses' job satisfaction levels. A policy of "zero tolerance" for violence and low tolerance for disrespect could be put in place to protect nurses and healthcare professionals in general.