18.11.2020 | Original Research Paper | Ausgabe 1/2021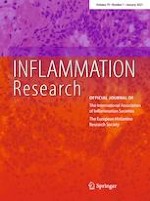 The efficacy of in vivo administration of Apremilast on mesenchymal stem cells derived from psoriatic patients
Zeitschrift:
Autoren:

Anna Campanati, Miriam Caffarini, Federico Diotallevi, Giulia Radi, Guendalina Lucarini, Mariangela Di Vincenzo, Monia Orciani, Annamaria Offidani
Wichtige Hinweise
Responsible Editor: J. Di Battista.
Publisher's Note
Springer Nature remains neutral with regard to jurisdictional claims in published maps and institutional affiliations.
Abstract
Introduction
Psoriasis cellular hallmarks, such as the imbalance between Th1/Th17 and Th2 cytokines and the dysregulated expression of vascular endothelial growth factor (VEGF), inducible nitric oxide synthase, (iNOS) and indoleamine 2,3-dioxygenase (IDO), are all detectable in mesenchymal stem cells (MSCs) suggesting that psoriasis originates at mesenchymal level. Aim of the study: In this scenario, MSCs may become the new therapeutic target and interest in the effects of traditionally used drugs, such as Apremilast, on MSCs has greatly increased.
Materials and Methods
MSCs from control subjects (C-MSCs) and from psoriatic patients before (PsO MSCs T0) and after in vivo treatment with Apremilast (PsO-MSCs T12) were isolated and characterized; subsequently, the effects of Apremilast on VEGF, iNOS and IDO expression were evaluated by immunocytochemistry (ICC). The expression of VEGF, iNOS and IDO was also detected in skin sections by immunohistochemistry (IHC).
Results
The results indicate that in vivo administration of Apremilast is able to drive the altered profile of PsO-MSCs towards a more physiological pattern. In skin sections, the role of Apremilast is evident in reducing VEGF, iNOS and IDO expression.
Conclusion
Apremilast treatment influences the expression of VEGF, iNOS and IDO not only by keratinocytes but also by MSCs, restoring their intrinsic profile and their natural anti-inflammatory action, and decreasing the auto-inflammatory process that underpins the development of psoriasis.