01.12.2019 | Research article | Ausgabe 1/2019 Open Access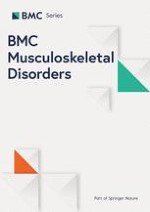 The efficacy of using 3D printing models in the treatment of fractures: a randomised clinical trial
Zeitschrift:
Autoren:

Chunhui Chen, Leyi Cai, Wenhao Zheng, Jianshun Wang, Xiaoshan Guo, Hua Chen
Abstract
Background
The aim of this study was to evaluate the efficacy of the use of three-dimensional (3D) printing models for preoperative planning in cases of complex fracture.
Methods
In total, 48 patients with AO type C fractures of the distal radius were enrolled in the study between January 2014 and January 2015. They were divided randomly into 3D model (
n
 = 23) and routine treatment (
n
 = 25) groups. A 3D digital model of each distal radius fracture in the former group was constructed. The model was exported to a 3D printer for construction of a full solid model. During each operation, the operative time, amount of blood loss, and frequency of intraoperative fluoroscopy were recorded, which were regarded as primary outcome measures. Patients were followed to evaluate surgical outcomes by Gartland–Werley scores, radiological evaluation, and range of motion of wrist, and these were regarded as the secondary outcome measures. In addition, we invited surgeons and patients to complete questionnaires.
Results
The treatment of complex fractures using the 3D printing approach reduced the frequency of intraoperative fluoroscopy, blood loss volume, and operative time, but did not improve postoperative function compared with routine treatment. The patients wanted the doctor to use the 3D model to describe the condition and introduce the operative plan because it facilitated their understanding. The orthopaedic surgeons thought that the 3D model was useful for communication with patients, but were much less satisfied with its use in preoperative planning.
Conclusion
Our study revealed that 3D printing models effectively help the doctors plan and perform the operation and provide more effective communication between doctors and patients, but can not improve postoperative function compared with routine treatment.