Erschienen in: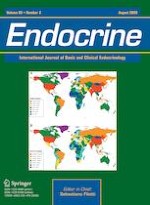 03.05.2020 | Original Article
The efficacy of vitamin D combined with clomiphene citrate in ovulation induction in overweight women with polycystic ovary syndrome: a double blind, randomized clinical trial
Erschienen in: Endocrine | Ausgabe 2/2020
Einloggen, um Zugang zu erhalten
Abstract
Purpose
The aim of this study was to assess the effect of vitamin D supplementation on ovulation rate in overweight subfertile women with PCOS undergoing ovulation induction.
Methods
This was a single center, parallel-groups, double-blind, and placebo-controlled randomized trial involving 186 eligible women undergoing induction of ovulation with clomiphene citrate (Clomid®, Aventis) 50 mg tablet twice daily starting from the third day of menstrual cycle and for 5 days combined with either oral Vitamin D (ossofortin®, EVA PHARMA) 10,000 IU twice weekly and calcium (calciprex®, Marcyrl Pharmaceutical Industries) 1250 mg twice daily or to receive a placebo with calcium for three successive induction cycles. The vitamin D or placebo supplementation started 1 month before induction cycles (total four cycles). Cycles were monitored with ultrasound follicle tracking and mid-luteal serum progesterone measurement. The primary outcome was the ovulation rate after three induction cycles.
Results
The study was performed during the period between January 2018 and September 2018, Eighty six (92.5%) women in the treatment group and 73 (78.5%) in the control group had successful ovulation (
p
 = 0.007). The absolute and relative risk reduction was 14% and 65% respectively. Biochemical and clinical pregnancy occurred in 61.3 and 50.5% in the treatment group, and in 49.5 and 39.8% in the control group (
p
 = 0.105 and 0.141 respectively).
Conclusion
In subfertile women with PCOS undergoing induction of ovulation, vitamin D supplementation significantly improved the ovulation rate; however, there was no effect on clinical or biochemical pregnancy.