01.12.2012 | Review | Ausgabe 1/2012 Open Access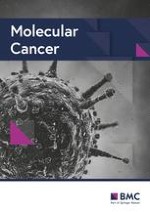 The emerging role of histone lysine demethylases in prostate cancer
Zeitschrift:
Autoren:

Francesco Crea, Lei Sun, Antonello Mai, Yan Ting Chiang, William L Farrar, Romano Danesi, Cheryl D Helgason
Wichtige Hinweise
Electronic supplementary material
The online version of this article (doi:
10.​1186/​1476-4598-11-52
) contains supplementary material, which is available to authorized users.
Competing interests
All authors declare no conflict of interest on the topics covered by this paper.
Authors' contribution
FC contributed to study conception, manuscript writing and data analysis. LS contributed to manuscript writing and data analysis. AM contributed to manuscript writing and critically revised the paper. YTC contributed to data analysis. WLF contributed to study conception and critically revised the paper. RD critically revised the paper. CDH contributed to study conception, manuscript writing, data analysis, and critically revised the paper. All authors read and approved the final manuscript.
Abstract
Early prostate cancer (PCa) is generally treatable and associated with good prognosis. After a variable time, PCa evolves into a highly metastatic and treatment-refractory disease: castration-resistant PCa (CRPC). Currently, few prognostic factors are available to predict the emergence of CRPC, and no curative option is available. Epigenetic gene regulation has been shown to trigger PCa metastasis and androgen-independence. Most epigenetic studies have focused on DNA and histone methyltransferases. While DNA methylation leads to gene silencing, histone methylation can trigger gene activation or inactivation, depending on the target amino acid residues and the extent of methylation (me1, me2, or me3). Interestingly, some histone modifiers are essential for PCa tumor-initiating cell (TIC) self-renewal. TICs are considered the seeds responsible for metastatic spreading and androgen-independence. Histone Lysine Demethylases (KDMs) are a novel class of epigenetic enzymes which can remove both repressive and activating histone marks. KDMs are currently grouped into 7 major classes, each one targeting a specific methylation site. Since their discovery, KDM expression has been found to be deregulated in several neoplasms. In PCa, KDMs may act as either tumor suppressors or oncogenes, depending on their gene regulatory function. For example, KDM1A and KDM4C are essential for PCa androgen-dependent proliferation, while PHF8 is involved in PCa migration and invasion. Interestingly, the possibility of pharmacologically targeting KDMs has been demonstrated. In the present paper, we summarize the emerging role of KDMs in regulating the metastatic potential and androgen-dependence of PCa. In addition, we speculate on the possible interaction between KDMs and other epigenetic effectors relevant for PCa TICs. Finally, we explore the role of KDMs as novel prognostic factors and therapeutic targets. We believe that studies on histone demethylation may add a novel perspective in our efforts to prevent and cure advanced PCa.