01.12.2012 | Review | Ausgabe 1/2012 Open Access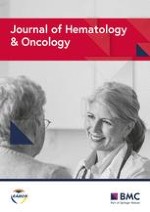 The emerging role of MIR-146A in the control of hematopoiesis, immune function and cancer
Zeitschrift:
Autoren:

Catherine Labbaye, Ugo Testa
Wichtige Hinweise
Competing interests
The authors declare that they have no competing interests.
Authors' contributions
CL and UT have equally contributed to the analysis of the literature data, to the redaction of the manuscript and its critical reviewing. All authors read and approved the final manuscript.
MiR-146a: discovery and targets
Expression and function of miR-146a in immune cells
Many studies were conveyed to the analysis of the expression and function of miR-146a in various cell types of the immune system. The analysis of miR-146a expression in highly purified subsets of cells of the immune system showed that miR-146a is among the few miRs to be differentially expressed between Th1 and Th2 cells in the mouse, thus suggesting that it could be involved in fate determination of these cells. Studies in mice made deficient in miR-146a expression by gene knockout showed an increase in the number of IFNgamma-producing T-cell subset (Treg) [
10
]. In spite the increased number of Treg lymphocytes induced by miR-146a deficiency, their function resulted to be impaired, with a consequent breakdown of immunological tolerance with massive lymphocyte activation and tissue infiltration in several organs [
17
]. In human T lymphocytes, miR-146a is scarcely expressed in naïve T cells, while it is abundantly expressed in memory T cells and is induced upon TCR stimulation [
6
].
As mentioned above, miR-146a is a typical miRNA involved in the control fo the inflammatory response of cells of the innate immune system and, particularly monocytes/macrophages, to infection. As mentioned in the previous section, miR-146a was found to be inducible in human monocytes upon stimulation with LPS in a NF-kB dependent manner and to target TRAF6 and IRAK1 mRNAs. These two genes encode key adaptor molecules acting downstream of TLRs and cytokine receptors, suggesting a role for miR-146a in controlling signaling originated from the activation of these receptors through a negative feedback loop involving downregulation of TRAF6 and IRAK1.
Other studies suggest an important role for miR-146a in the development of the mechanism of LPS tolerance. The LPS tolerance is a peculiar property of monocytes to develop a condition of hyporesponsiveness to LPS (with reduced TNF-alpha production) upon prolonged exposure to LPS. This conclusion was based on the observations that miR-146a continues to increase over 24 h exposure to LPS, while TNF-alpha levels increased during the first 4 h and then progressively decreased [
18
]. Transfection of a miR-146a inhibitor in THP-1 cells inhibited the development of a LPS tolerogenic response [
18
]. A role for miR-146a was also shown in the phenomenon of LPS-induced cross-tolerance, i.e., a mechanism of tolerance to both homologous and heterologous inflammatory ligands [
19
]. miR-146a could therefore act as a fine tuning mechanism to prevent an overstimulation of the inflammatory response.
MiR-146a expression, explored in dendritic cells, is about 6-fold more highly expressed in Langheran's cells than in interstitial dendritic cells generated in vitro from human granulocyte/myeloid progenitor cells [
20
]. Importantly, miR-146a expression, at variance with the findings observed in monocytes, does not increase in response to cell activation, thus suggesting that in Langheran's cells miR-146a expression is constitutively high. The high expression of miR-146a in Langheran's cells seems to be induced by the transcription factor PU.1 [
20
]. According to these observations it was suggested that elevated miR-146a expression could be required for Langheran's cells development and could prevent in these cells inappropriate cell activation resulting from environmental Toll-like receptor ligands.
Role of miR-146a in cell differentiation
Many recent studies indicate that miR-146a expression is finely tuned during cell differentiation and the miR-146a-mediated control of some targets plays in turn an important role in the process of cell differentiation. These studies were mainly focused to analyze the effect of miR-146a on hematopoietic cell differentiation.
Some evidences indicate a role for miR-146a in the control of macrophage differentiation. Ghani et al using a model of PU.1 inducible cell lines showed that activation of the expression of this transcription factor induced a marked upmodulation of miR-146a expression [
21
]. Stimulation of miR-146a expression by PU.1 is mediated by a transcriptional stimulation dependent upon the binding of PU.1 to a binding motif located at 10 kb upstream of the miR-146a locus. miR-146a was found to be expressed at low level in purified preparations of murine common myeloid progenitors and at markedly higher levels in mature myeloid cells and particularly in macrophages. Loss of function experiments in murine and zebrafish models revealed that generation of the macrophage compartment in embryos requires the regulatory activity of miR-146a [
21
]. According to these findings it was suggested that miR-146a plays an important role not only in inhibition of pro-inflammatory signaling, but also in promoting macrophage development from hematopoietic stem cells [
21
].
The possible effects of miR-146a deficiency on myelopoiesis were evaluated in murine gene knockout models. Thus Boldin et al reported the knockout (KO) of miR-146a: as expected, monocytes derived from miR-146a-null mice were hypersensitive to LPS [
22
]. Although no overt abnormalities of hematopoietic differentiation have been observed in miR-146a-deficient mice, abnormalities of some hematopoietic lineages were found. Thus miR-146a
-/-
mice showed a marked splenomegaly due to the accumulation and increased proliferation of myeloid elements CD11b
+
/Mac1
+
[
22
]. Aging miR-146a KO mice displayed the development of anemia, thrombocytopenia and lymphopenia, seemingly in consequence of myeloproliferative syndrome [
22
]. The proliferation of these myeloid elements seems to be in part due to the overexpression of M-CSFR [
22
]. However, the cellular lineage of the myeloproliferation and the mechanistic basis of miR-146a deficiency-mediated myeloproliferation remained to be evaluated. Thus, in a second study the same authors showed that miR-146a KO mice developed myeloid sarcomas through a mechanism mediated via NF-kB activation induced by miR-146a deficiency [
23
].
These observations indicate that, in addition to its anti-inflammatory role, miR-146a plays a negative role in the development of myeloid elements since its deletion in mice results in a myeloproliferative disorder with accumulation of CD11b+Mac1+ cells.
In another study a different approach was attempted to explore miR-146a function in hematopoietic differentiation. Thus, miR-146a was overexpressed in hematopoietic stem cells, followed by bone marrow transplantation. The transplantation of these cells resulted in a transient myeloid expansion, decreased erythropoiesis and impaired lymphopoiesis [
24
]. Furthermore, the enforced expression of miR-146a impaired bone marrow reconstitutuion in recipient mice and reduced survival of hematopoietic stem cells [
24
]. It is also important to note that in this study miR-146a was found to be expressed mainly in primitive hematopoietic stem cells, lymphocytes and monocytes [
24
].
A number of recent studies support a role of miR-146a in the control of megakaryocytopoiesis. miR-146a levels have been reported to dramatically change during megakaryocytic differentiation of hematopoietic progenitor cells, but there is conflicting evidence regarding the direction of change and the function of miR-146a in megakaryocytic differentiation. Thus, Labbaye et al observed that miR-146a is abundantly expressed in human hematopoietic progenitors cells (HPCs) and its expression decreased when these cells are induced to differentiate to megakaryocytes [
12
]. Importantly, forced expression of miR-146a into HPCs caused a reduction of the maturation of megakaryocytic cells, as evidenced by a reduced expression of membrane megakaryocytic differentiation markers and a reduction in the number of polyploidy cells [
12
]. Conversely, inhibition of miR-146a expression by antagomir caused an opposite effect, with increased expression of megakaryocytic differentiation markers and increased polyploidy [
12
]. The reduction of miR-146a expression associated with megakaryocytic differentiation was confirmed also by Garzon et al [
25
] who observed miR-146a levels much higher in normal bone marrow (BM) CD34
+
cells than in BM megakaryocytes [
25
]. In line with these findings, Starczynowski et al showed that miR-146a was strongly downmodulated during hematopoietic differentiation since it was markedly more expressed in HPCs CD34
+
than in CD34
-
BM precursor cells [
26
]. In their studies Starczynowski et al demonstrated that knockdown of miR-146a and miR-145 in murine HPCs (by overexpression of decoy targets or anti-miRNA) resulted after transplant in significant thrombocytosis and increased megakaryocyte colony formation [
26
].
In contrast to these findings, Opalinska et al reported that in murine HPCs induced to differentiate to megakaryocytres, the expression of miR-146a increased [
27
]. Furthermore, these authors showed that overexpression of miR-146a in mouse bone marrow HPCs produced no significant alterations in megakaryocyte development
in vivo
after transplantation and no changes in megakaryocyte colony assays [
27
].
The effect of miR-146a overexpression in murine HPCs was explored also by Starzynowski et al [
24
]. These authors showed that miR-146a is mainly expressed in stem/progenitor cells and that its overexpression in HPCs, followed by bone marrow transplantation, resulted in a number of hematological abnormalities consisting in transient myeloid expansion, decreased erythropoiesis and impaired lymphopoiesis; furthermore, miR-146a overexpression reduced bone marrow reconstitution capacity [
24
]. However, surpisingly, miR-146a overexpression did not apparently affect megakaryocyte number and differentiation [
24
]. It was proposed that these apparently conflicting results may derive from species differences and different experimental culture conditions that could result in different levels of functional miR-146a [
28
]. Particularly, it is possible that overexpression of miR-146a beyond endogenous levels could be not sufficient to induce a biological effect on megakaryocytes [
29
].
An additional great complexity of these studies is related to the mechanisms through which miR-146a could affect megakaryocyte development. Thus, Labbaye et al provided evidence that miR-146a controls megakaryocyte differentiation through a cell autonomous mechanism related to the targeting of the chemokine receptor CXCR4. Thus, the decrease of miR-146a expression observed during megakaryocytic differentiation permits the optimal expression of CXCR4 in developing megakaryocytes: the autocrine stimulatioin of this receptor by endogenously released Stromal derived Fcator-1 (SDF-1alpha) activates CXCR4 and its signaling together with TPOR stimulates megakaryocytic differentiation [
12
]. In contrast, Starczynovski and coworkers in their studies on miR-145/miR-146a-deficient mice suggested a different, non cell-autonomous mechanism, based on the targeting of TRAF6 by miR-146a; TRAF6 acts as a stimulator of IL-6, a cytokine required for optimal megakaryocytic proliferation/differentiation [
26
].
miR-146a and cancer
Many recent studies have suggested a role for miR-146a in the development and maintenance of neoplastic processes.
Conclusion and future perspectives
The discovery of miRNAs as important regulators of gene expression shed a new light on our understanding of many biological processes. From the studies carried out during these last years it became evident miR-146a plays a key role as a modulator of the innate immune response. However, recent studies indicate also an important role of this miRNA in the control of normal hematopoiesis, particularly for that concerns the megakaryocytic and monocytic lineages. However, the mechanism, either direct or indirect through which miR-146a affects megakaryocytopoiesis and monocytopoiesis is still debated and additional studies are required to solve this issue.
On the other hand, growing evidence indicates a deregulation of miR-146a in many neoplastic conditions. This is the case of 5q- syndrome associated to myelodysplasia, where a deficiency of miR-146a is observed. The deficiency of miR-146a, together with deficiency of miR-145, seems to be responsible for abnormalities of thrombopoiesis observed in this disease. Although the mechanism through which miR-146a induces a dysmegakaryopoiesis in 5q- syndrome remains still unclear, knockout studies of the miR-146a locus indicate that reduced miR-146a expression affects hematopoiesis and contributes to features of myelodysplasia and leukemia. In line with these indications miR-146a expression is clearly downmodulated in many AMLs may contribute to the malign phenotype. Furthermore, miR-146a expression is deregulated in many solid tumors and there is consistent evidence that miR-146a may act as a tumor suppressor. However, the mechanism through which a miR-146a downmodulation may favor tumor development and/or maintenance is at the moment unclear, but it seems related to the capacity of this miRNA to target some mRNAs, such as TRAF6, IRAK1, CXCR4, EGFR. Future studies will unveil the molecular mechanisms through which miR-146a contributes to tumor development.
Acknowledgements
We are grateful to the Italian Health Ministry for founding our studies on miRNAs.
This article is published under license to BioMed Central Ltd. This is an Open Access article distributed under the terms of the Creative Commons Attribution License (
http://​creativecommons.​org/​licenses/​by/​2.​0
), which permits unrestricted use, distribution, and reproduction in any medium, provided the original work is properly cited.
Competing interests
The authors declare that they have no competing interests.
Authors' contributions
CL and UT have equally contributed to the analysis of the literature data, to the redaction of the manuscript and its critical reviewing. All authors read and approved the final manuscript.