01.12.2016 | Research article | Ausgabe 1/2016 Open Access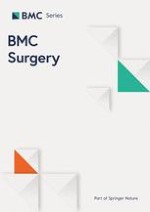 The enigma of primary and secondary encapsulating peritoneal sclerosis
Zeitschrift:
Autoren:

Hisham Allam, Omer Al Yahri, Sharon Mathew, Adham Darweesh, Ahmed Nafea Suliman, Sherif Abdelaziem, Mohamed Khairat, Adriana Toro, Isidoro Di Carlo
Abstract
Background
Encapsulating Peritoneal Sclerosis (EPS) describes a variety of diseases that are frequently confused with different names and different etiopathogeneses. The aim of this article is to report personal experience of focusing on correct classification and the status of current diagnosis and treatment.
Methods
A retrospective analysis was performed. Age, sex, ethnic origin, past medical history, symptoms and their duration, radiological tools and signs, laboratory tests, preoperative diagnosis, surgical approach, intraoperative findings, pathological findings, hospital stay, morbidity and mortality were studied.
Results
A total of seven patients, including six males and one female, aged from 24 to 72 years were observed. Four patients had recurrent abdominal colic pain for 3 months, 1, 2 and 9 years; two patients also reported recurrent attacks but without any specification of the duration. All seven patients presented at the emergency department with abdominal pain that was mainly diffused over the entire abdomen. Six patients were submitted to a CT scan. Only in two patients was the diagnosis of EPS made preoperatively. All seven patients were submitted to open surgery. The hospital stay was between 4 and 60 days. One patient had morbidity, and one patient died of MOF.
Conclusions
Currently, the correct identification of EPS is more easily possible than in the past, but the diagnosis is still a challenge. Surgery must be performed as soon as possible to avoid a poorer quality of life.