01.12.2016 | Research article | Ausgabe 1/2016 Open Access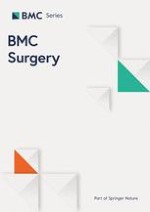 The enigma of primary and secondary encapsulating peritoneal sclerosis
Zeitschrift:
Autoren:

Hisham Allam, Omer Al Yahri, Sharon Mathew, Adham Darweesh, Ahmed Nafea Suliman, Sherif Abdelaziem, Mohamed Khairat, Adriana Toro, Isidoro Di Carlo
Abbreviations
CT Scan
Computerized tomography scan
EPS
Encapsulating peritoneal sclerosis
MRI
Magnetic resonance imaging
Background
Encapsulating peritoneal sclerosis (EPS) is an uncommon chronic syndrome, usually presenting clinically as intermittent, acute or sub-acute gastrointestinal obstruction [
1
]. EPS can be divided into primary and secondary [
2
]. Primary EPS is also defined as idiopathic [
3
]. Primary EPS have been also defined in 1978 as abdominal cocoon syndrome [
4
]. The cause of primary EPS is still unknown; [
4
,
5
].
Secondary EPS is related to many conditions and causes; the most common is peritoneal dialysis (Table
1
).
Table 1
Classification of different aspects of peritoneal encapsulation
1) Peritoneal encapsulation
2) Sclerosing encpsulating peritonitis
 a) Primary or idiopatic or abdominal cocoon syndrome
 b) Secondary
Both forms (primary and secondary) are different from peritoneal encapsulation (PE). This disease was reported for the first time in 1868 by Cleland [
6
], and it is represented by an accessory peritoneal membrane. More than the result of inflammation should be considered with a duplication of the peritoneum; this is found incidentally in the majority of cases. The peritoneal membrane in this disease is secured laterally to the ascending and descending colon, cranially to the transverse mesocolon, and caudally to the posterior parietal peritoneum. It has two openings: one at the entrance of the intestine at the duodenojejunal junction, and the other at the ileocecal junction for the exit of the last loop. The absence of sclerosis represents the difference with the EPS, in fact the coverage of the intestine is only a layer of serosa membrane like the peritoneum.
Many tools can be used to diagnose EPS. Instead of utilizing the past medical history and the radiological finding, preoperative diagnosis remains challenging, and in a high percentage of cases, the diagnosis is reached at the time of the surgical procedure.
The aim of this article is to report a valuable number of patients who were observed in our hospital, focusing on correct classification and the status of current diagnosis and treatment.
Methods
A retrospective analysis was performed on patients admitted to the Hamad General Hospital Department of Surgery, General Surgery section, in the last 10 years from January 2005 to September 2015. Age, sex, ethnic origin, past medical history, symptoms and their duration, radiological tools and signs, laboratory tests, preoperative diagnosis, surgical approach, intraoperative findings, pathological examinations, hospital stay, morbidity and mortality were studied. After this primary evaluation, all patients were classified by primary or secondary EPS, and all of the data have been revaluated to note the differences.
Results
In the period of the study, 10 patients were observed. Three of these patients were previously published as case reports [
6
,
7
], and they will not be further reported on here. Thus, we have analyzed the remaining seven patients who have not yet been reported. The patients were six males and one female, aged from 24 to 72 years (mean age 44.5 years). The nationalities of the patients were three Egyptians, two Indians, one Sudanese and one Nepalese. Three patients had no comorbidities and were considered to have primary EPS; the remaining four patients had comorbidities. In one case, the patient had a Mediterranean fever that was diagnosed more than 10 years ago. In three cases, the patients were submitted to peritoneal dialysis, in one case for 32 months and in the second case, for 8 months; the duration was not reported in the last case. All seven patients presented at the emergency department with abdominal pain that was mainly diffused over the entire abdomen; in addition to the main symptoms, five patients had nausea, vomiting and constipation. One patient had only diffuse abdominal pain and anorexia. Four patients had recurrent abdominal colic pain for 3 months, 1, 2 and 9 years; two patients also reported recurrent attacks but without any specification of the duration. One patient had no history of a previous attack of abdominal pain. Six patients were submitted to a CT scan. Only in two patients was the diagnosis made preoperatively: in one case, as a partial encapsulation and in the second one, as a complete encapsulation of the small bowel (Fig.
1
). In the remaining four cases, the diagnosis was of intestinal occlusion without any specifications. The last patient was submitted to an X-ray examination that showed intestinal occlusion but the diagnosis was erroneous because the patient presented a bulk on the right side of the umbilicus that was diagnosed as an obstructed Spigelian hernia. Five patients presented with a slight elevation of WBC that was normal in one patient and not reported in the last one. All seven patients were submitted to open surgery. Five patients had the entire small bowel encapsulated (Fig.
2
); one patient had an encasement of the last part of the jejunum, ileum, appendix and cecum. The last patient had an encasement of the small bowel and cecum with multiple perforations between the last ileal loop and the cecum. All patients were submitted to excision of the membranes and adhesiolysis of the loops (Fig.
3
), except the patient who was affected by multiple perforations that was submitted to excision of the membrane, adhesiolysis and right hemicolectomy. In all seven cases, pathological examinations showed the presence of hyalinized membranous fibrocollagenous tissue compatible with a diagnosis of EPS. The hospital stay was between 4 and 60 days. One patient had morbidity; the patient came back to the hospital after 1 week with the symptoms of intestinal occlusion. The patient was treated with bowel rest and parenteral nutrition, and he resolved spontaneously after 4 days. Then, he was discharged and no further complaints have been recorded. One patient died after the initial resection of the last loops of the ileum and the right colectomy. The patient developed a wound infection, wound dehiscence and purulent peritonitis with septic shock. He underwent a second operation 2 weeks after the first procedure, and a couple of small bowel perforations were found. Both the first and second procedures were very difficult because of the extensive adhesions between the bowel loops. Instead of several operations and multiple treatments, the patient developed an entero-cutaneous fistula and consequently abdominal sepsis and septic shock, and he died as a result of multiple organ failure after 60 days of hospitalization.
×
×
×
All of the analyzed data have been used after classifying the patients as having primary and secondary EPS. All of the differences in the two groups are shown in Table
2
.
Table 2
Mean characteristics of both group of the patients: primary and secondary SEP
Primary SEP

Secondary SEP

Nb Pts

3

4

Sex

3 males

3 males, 1 female

Age

33 years mean age (30–36)

53,5 mean age (24–72)

Nationality

1 Indian

2 Egiptian

1 Egyptian

1 Sudani

1 Nepali

1Indian

Comorbidities

No comorbidities

3pts CKD with PD

1 pt Mediterranean fever

Symptoms of presentation at emergency

2pts abdominal pain, nausea, vomiting, constipation

3pts abdominal pain, nausea, vomiting, constipation

1 pt abdominal pain

1 pt abdominal pain and anorexia

Duration of symptoms

1 st 2 years

1 st 9 years

2 nd 1 year

2 nd 3 months

3 th no previous attack

2 pts previous attack but not specified the time

Methods of diagnosis

1 pt X-ray

4 pts CT scan

2 pts CT scan

Accuracy of diagnosis

2 pts SEP

4 pts general intestinal occlusion

1 pt Spigelian hernia

Preoperative WBC

2 pts increased slightly

3 pts increased slightly

1 pt not reported

1 pt normal

Presentation at surgery

1 pt encasement of entire small bowel, cecum, appendix

3pts encasement of entire small bowel

2 pts encasement of entire small bowel

1 pt encasement of entire small bowel, an cecum

Surgical procedure

3 pts excision of membranes and adhesiolisis

3 pts exicision of membranes and adhesiolisis

1 pt excision of membranes, adhesiolisis and RH

Hospitalization

1 st 10 days

1 st 60 days

2 nd 4 days

2 nd 7 days

3 th 4 days

3 th and 4 th 4 days

Morbidity

1 pt Early post operative small bowel obstruction

None

Mortality

None

1 pt MOF
Discussion
In our case series, all three cases of primary EPS were male patients. All are young and this reflects the fact that the country of Qatar is full of young male expatriates that are construction laborers; none of the three patients came from tropical or subtropical countries. Additionally, in the second group, not all patients were from tropical or subtropical countries, but all of these patients have a comorbidity that can be considered as the cause of the secondary EPS. In this second group, in contrast, the age reflects the comorbidities that are the cause of the EPS except in the patient who was affected by the Mediterranean familial fever (a recurrent polyserositis mainly affecting the peritoneum) who was aged 24 years; the other three patients were aged more than 50 years. Obviously, our case series is limited in number, but the fact that all patients do not come from tropical or subtropical countries leaves open the possibility regarding the origin of the countries.
The histopathology of this disease is not pathognomonic, and a diagnosis after the resected specimen is still achieved in concomitance to the clinical and radiological findings.
There is no consensus about the treatment of EPS.
Conclusions
Currently, the correct identification of the form of EPS and PE is more easily possible than in the past, but the diagnosis is still a challenge. In our opinion, surgery has to be done as soon as possible to avoid a poor quality of life with recurrent episodes of occlusion and difficult adhesions that can cause morbidity and mortality.
Acknowledgements
None.
Funding
The author(s) received no financial support for the research, authorship, and/or publication of this article.
Availability of data and materials
Data supporting the present findings can be obtained, if needed, after getting permission from the Hamad Medical Corporation. A waiver of consent was granted for this study as there was no direct contact with patients and all data were retrieved retrospectively under full confidentiality to protect patients' privacy.
Authors' contributions
HA, IDC: Study conception and design. OAY, SM: Acquisition of data. AD, ANS, AT: Analysis and interpretation of data. SA, MK, AT: Drafting of manuscript. IDC: Critical revision of manuscript. All authors read and approved the final manuscript.
Competing interests
The authors declare that they have no competing interests.
Consent for publication
Written informed consents were obtained from the patients to publish the present work and accompanying images.
Ethics approval and consent to participate
This retrospective study was approved with the ethical board of Hamad General Hospital (Hamad Research Center), and was conducted in accordance with the Declaration of Helsinki.
Open Access
This article is distributed under the terms of the Creative Commons Attribution 4.0 International License (
http://​creativecommons.​org/​licenses/​by/​4.​0/​
), which permits unrestricted use, distribution, and reproduction in any medium, provided you give appropriate credit to the original author(s) and the source, provide a link to the Creative Commons license, and indicate if changes were made. The Creative Commons Public Domain Dedication waiver (
http://​creativecommons.​org/​publicdomain/​zero/​1.​0/​
) applies to the data made available in this article, unless otherwise stated.