01.12.2017 | Research article | Ausgabe 1/2017 Open Access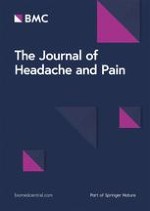 The enigma of site of action of migraine preventives: no effect of metoprolol on trigeminal pain processing in patients and healthy controls
Zeitschrift:
Autoren:

Julia M. Hebestreit, Arne May
Abstract
Background
Beta-blockers are a first choice migraine preventive medication. So far it is unknown how they exert their therapeutic effect in migraine. To this end we examined the neural effect of metoprolol on trigeminal pain processing in 19 migraine patients and 26 healthy controls. All participants underwent functional magnetic resonance imaging (fMRI) during trigeminal pain twice: Healthy subjects took part in a placebo-controlled, randomized and double-blind study, receiving a single dose of metoprolol and placebo. Patients were examined with a baseline scan before starting the preventive medication and 3 months later whilst treated with metoprolol.
Results
Mean pain intensity ratings were not significantly altered under metoprolol. Functional imaging revealed no significant differences in nociceptive processing in both groups. Contrary to earlier findings from animal studies, we did not find an effect of metoprolol on the thalamus in either group. However, using a more liberal and exploratory threshold, hypothalamic activity was slightly increased under metoprolol in patients and migraineurs.
Conclusions
No significant effect of metoprolol on trigeminal pain processing was observed, suggesting a peripheral effect of metoprolol. Exploratory analyses revealed slightly enhanced hypothalamic activity under metoprolol in both groups. Given the emerging role of the hypothalamus in migraine attack generation, these data need further examination.