01.12.2017 | Review | Ausgabe 1/2017 Open Access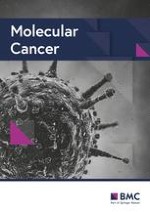 The epithelial to mesenchymal transition (EMT) and cancer stem cells: implication for treatment resistance in pancreatic cancer
Zeitschrift:
Autoren:

Pingting Zhou, Bo Li, Furao Liu, Meichao Zhang, Qian Wang, Yuanhua Liu, Yuan Yao, Dong Li
Background
Pancreatic cancer (PC) is one of the poorest prognosis malignancies with a 5-year survival rate of less than 5% and a median survival of no more than 6 months after diagnosis [
1
,
2
]. Even among patients diagnosed with early-stage disease who undergo clean surgical margins resection (R0 resection) followed by adjuvant chemotherapy, the median survival rate is approximately 2 years, with a 5-year survival of 15–20% [
3
–
5
]. This devastating situation is due to several factors. First, due to the absence of effective tools for an early detection, most patients at the time of diagnose have locally advanced or metastatic disease, and lose the opportunity of surgical resection. Second, even for those patients who undergo surgical resection, the prognosis is poor due to early relapse and distant metastasis. Metastasis is a characteristic of pancreatic cancer and the leading cause of mortality among cancer patients [
6
]. Finally, PC shows profound resistance to relative chemotherapy and radiation treatment. Cancer cells resistant to treatment usually show more aggressive, such as accelerated metastasis to distant organs and tissues. Thus treatment resistance becomes the major challenge in clinical cancer therapies. The focus on the management of PC patients, especially those in advanced stages, is to understand the pathophysiological mechanisms of therapy resistance and overcome the resistance.
Cellular heterogeneity is a well-recognized property of both normal and malignant tissues. The difference is that heterogeneity in the normal tissues is an ordered developmental program. However, tumors are composed of a small set of distinct cells termed cancer stem cells (CSCs), which is capable of driving tumor initiation and development. The CSCs model, on the other hand, suggests that the biology process of the tumor is driven by a small population of cells with the stem cell properties of sustaining growth and an ability to differentiate into the entire heterogeneous tumor [
7
]. Dick and colleagues in 1997 identified the first cancer stem cell in hematopoietic malignancies, such as acute myelogenous leukemia and chronic myelogenous leukemia using cell surface marker expression [
8
,
9
]. Hematopoietic stem cells (HSCs) can self-renew and differentiate into all the cells of the hematopoietic system, and are responsible for lifelong blood production [
10
]. After the discovery of CSCs in leukemias, the first CSCs in solid tumors were identified in breast tumors [
11
], leading to much research in a variety of tumors, including glioblastoma [
12
], pancreas [
13
,
14
], melanoma [
15
], prostate [
16
] and colon [
17
]. PCSCs have been first discovered in 2007 and since then have conducted as a subpopulation of cancer cells with special functional features including self-renewal and exclusive in vivo tumorigenicity. Furthermore, the resistance of PC to standard chemotherapy and radiation treatment may in part be due to the existence of CSCs, which can express multidrug-resistant membrane transporters, aberrantly activate proliferation signaling pathways and increase the capability of repairing DNA.
Although there are a growing number of studies that support the CSCs model in cancer, diverging theories exist on the precise origin of cancer stem cells. It is not yet known whether they originate from the tissue's normal stem cells by the accumulation mutations or the acquisition of the mutations in more-differentiated cells. Recent studies have implicated that the process termed epithelial-to-mesenchymal transition (EMT) is associated with features of CSCs [
18
,
19
]. This review focuses on recent research findings related the role of EMT and CSCs on chemotherapy and radiotherapy resistance in pancreatic cancer, helping understand the complex biology of treatment resistance for the more effective treatments for PC patients.
EMT in cancer
Pancreatic cancer stem cells
The relationship between EMT and PCSCs
Of fundamental importance biologically, the activation of EMT process has been associated with the properties of stem cell traits for both normal and neoplastic cells [
18
,
19
]. The biologic link between EMT phenotypes and CSCs has recently been studied in many types of cancer including PC (Table
1
) [
52
,
94
–
99
]. Cells with an EMT phenotype effect molecular characteristics of CSCs; CSCs also express an EMT phenotype. This phenomenon indicated that EMT and CSCs are closely related [
100
–
102
]. In breast cancer, Mani and colleagues reported that the overexpression of Twist, Snail or FOXC2 not only made the breast cancer cells with more mesenchymal properties, but also with an increased expression of CD44
+
/CD24
-/low
breast CSC markers and an increased mammosphere forming efficiency [
18
,
103
]. The similar results also showed in prostate cancer. Prostate cancer cells with an EMT phenotype have increased expression of Sox2, Nanog, Pou5F1, lin28B and/or Notch1 and an enhanced sphere-forming ability [
104
].
Table 1
Principal data regarding the relationship of EMT with PCSCs
Experimental approach

Molecular characteristics of PCSCs

References

Short hairpin RNA (shRNA)-mediated

ZEB1

-knockdown in the two cells with the highest levels of ZEB1(Panc–1 and MiaPaCa–2)

Reduction of CD24+/CD44+ subpopulation, reduced sphere formation in the two cancer cell lines and sphere numbers in subsequent generations decreased expression of stem cell factors such as Sox2, Bmi1 and p63

CD133 overexpression in Mia PaCa-2 cell

Increased mRNA expression of several EMT-associated genes: SNAI1, ZEB1, Vimentin, CDH2 and MMP9. CD133hi-MIA cells show a more fibroblast-like morphology

Silenced Snail in Panc-1 cells

A significant decrease in the ALDH high population, reduction initial formation of spheres and sphere numbers in subsequent generations.

Nestin shRNA in PANC-1 cell and nestin-overexpressing in MiaPaCa-2 cell

Expression of mesenchymal markers, acquisition of invasive properties and high motility/opposite effects

Isolate the SP cell fraction (side population, a cancer stem cell enriched fraction from Panc-1,KP-1NL and Capan-2 cell lines), incubate SP cells in the presence of TGF-β

Production of cells with mesenchymal-like morphology,alteration such as reduction of E- cadherin mRNA and induction of Snail mRNA and (MMP)-2 mRNA
ZEB1 (zinc finger E-box binding homeobox 1) is a crucial promoter of EMT. ZEB1 can repress the expression of the miR-200 family and stemness-inhibiting miR-203, resulting in activation of EMT and tumor-initiating capacity in pancreatic cancer [
96
]. In addition, miR-200 family can suppress the expression of stem cell factors, such as Sox2 and Klf4. It is also suggested that ZEB1and PCSCs marker CD44 regulate each other. ZEB1 enforces CD44 isoforms (CD44s) splicing by repression of epithelial splicing regulator ESRP1 in pancreatic cancer. CD44s, in turn, increases the expression of ZEB1, resulting in a self-sustaining ZEB1 and CD44s expression. The relationship of this novel CD44s-ZEB1 impacts on cancer cell ability, including increased tumorsphere initiation capacity and tumor metastasis [
105
]. These results suggested that ZEB1 linked EMT and stemness-maintenance in PC.
Nestin was first recognized as a functional stem cell marker in embryonic and adult central nervous system (CNS) stem cells [
106
]. In addition, recent studies have identified nestin as a CSC marker in brain tumors, ovarian, head and neck, prostate, and PC [
107
–
111
]. Compared with parental cells, PC cells with Nestin knockdown exhibited decreased sphere formation and regulated EMT by decreasing slug expression [
112
]. Overexpression of nestin induced TGF-ß1 and the expression of its receptors through the Smad4-dependent pathway in PC and nestin overexpression induces the EMT of PDAC cells. Meanwhile the excessive TGF- β1 cytokine as a major EMT-inducing soluble factor results in increased nestin expression. Thus, nestin-positive cells apparently use an autocrine positive feedback loop to regulate EMT in PDAC through TGF-β/Smad pathway [
99
]. In addition, Hypoxia induction increased expression of the PCSCs markers Notch1, Notch4, c-Met, CD133 and the embryonic stem cell markers Nanog, SOX2, FOXA2, SOX17 and PDX-1 [
113
]. Among above markers, the upregulation of FOXA2 was accompanied by an EMT, with down-regulation of E-cadherin and upregulation of mesenchyme markers Vimentin, Slug, Snail and Twist2. Previous experience in breast cancer showed that Twist2 overexpression not only promoted EMT signaling, but also enhanced colony-forming abilities of stem cells, which suggested that Twist2 may be a master inducer of both EMT and CSC features.
PCSCs, EMT and treatment resistance
Conclusion
Since cancers are heterogeneous, future novel treatment targets aimed at increasing patient survival will undoubtedly need to consider the heterogeneity of cancer cells. Heterogeneity among cancer cells within the same tumor arises from a consequence of environmental differences, genetic mutation, and reversible changes in cellular properties. Among them one origin of such heterogeneity is EMT and the existence of dedifferentiated cells with CSC-like properties. A better understanding of the properties of EMT and CSCs in PC will play an important role in developing emerging and effective therapies targeting not only the bulk tumor but also the residual cluster of cells that are responsible for the relapse, metastasis and treatment resistance of the tumor. CSC properties have been put forward to explain diverse unsolved clinical problems. However, difficulties confirming solid CSC markers in order to isolate PCSCs have hindered the research identifying their existence in some cancers and studying their biology in clinical applications.
It is now widely accepted that the presence of EMT and a PC subpopulation, with stem cell properties, play important roles in escaping from current clinical specific therapies. In this review we have discussed the detailed process and complex molecular signaling pathways controlling EMT and CSCs in PC during tumor formation, progression, and response to therapy. The combined use of different gene products altered in EMT and PCSCs may represent potential strategies for improving the effectiveness of the diagnostic/prognostic methods and treatments efficacy for cancer patients in the clinics. Targeting CSCs via modification of the Wnt, HH and Notch signaling pathways of these cells holds the promise of preventing treatment resistance. However, additional studies are required to further confirm stem-cells markers and abnormal signaling pathways in CSCs, which have significant correlation with the high treatment resistance of PC.
Acknowledgments
This work was supported by National Natural Science Foundation of China (grants 81370600), The Program for Professor of Special Appointment (Eastern Scholar) at Shanghai Institutions of Higher Learning(TP2015022)and Shanghai Pujiang Program (15PJ1404800).
Availability of data and materials
All the authors confirm the availability of data and materials.
Authors' contributions
LD and ZPT provided direction and guidance throughout the preparation of this manuscript. ZPT and LB conducted the literature review and drafted the manuscript. LFR, ZMC, WQ, LYH, YY reviewed the manuscript and made significant revisions on the drafts. All authors read and approved the final manuscript.
Competing interests
The authors declare that they have no competing interests.
Consent for publication
All the authors confirm that the manuscript represents our honest work, and agree to consent for publication in Molecular Cancer.
Ethics approval and consent to participate
Not applicable.
Open Access
This article is distributed under the terms of the Creative Commons Attribution 4.0 International License (
http://​creativecommons.​org/​licenses/​by/​4.​0/​
), which permits unrestricted use, distribution, and reproduction in any medium, provided you give appropriate credit to the original author(s) and the source, provide a link to the Creative Commons license, and indicate if changes were made. The Creative Commons Public Domain Dedication waiver (
http://​creativecommons.​org/​publicdomain/​zero/​1.​0/​
) applies to the data made available in this article, unless otherwise stated.