01.12.2014 | Research | Ausgabe 1/2014 Open Access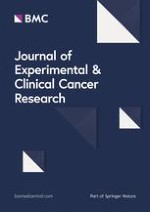 The expression and role of tyrosine kinase ETK/BMX in renal cell carcinoma
Zeitschrift:
Autoren:

Jintao Zhuang, Xiangan Tu, Kaiyuan Cao, Shengjie Guo, Xiaopeng Mao, Jincheng Pan, Bin Huang, Xu Chen, Yong Gao, Shaopeng Qiu
Wichtige Hinweise
Electronic supplementary material
The online version of this article (doi:
10.​1186/​1756-9966-33-25
) contains supplementary material, which is available to authorized users.
Jintao Zhuang, Xiangan Tu contributed equally to this work.
Competing interests
The authors declare that they have no competing interests.
Authors' contributions
GSJ, MXP and PJC evaluated the immunostaining. CKY, HB and CX performed the statistical analysis. ZJT and QSP participated in the design of the study. ZJT and TXA drafted the manuscript. QSP and GY revised the manuscript. All authors read and approved the final manuscript.
Abstract
Background
Expression of the non-receptor tyrosine kinase ETK/BMX has been reported in several solid tumors, but the underlying molecular mechanisms and its clinical significance in renal cell carcinoma (RCC) remain to be elucidated.
Methods
ETK expression in 90 human RCC and 30 human normal renal tissue samples was examined by immunohistochemistry and compared with several clinicopathologic parameters. To further demonstrate the biological function of ETK in RCC, Western blot was used to test the expression level of ETK protein in RCC cell lines. Subsequent to the downregulation of ETK by small interfering RNA, the effects of ETK on RCC cell growth, apoptosis, migration and invasion were assessed by methyl thiazol tetrazolium assay, flow cytometry and transwell assay. And the varying expression of VEGF, STAT3 and phosphorylated STAT3 (p-STAT3) in RCC were evaluated by Western blot.
Results
Immunohistochemistry analysis showed that ETK expression was highly increased in RCC and was positively correlated with clinical stage, grade and metastasis. Simultaneously, the overall survival time in patients with higher ETK expression was obviously shorter than that in patients with lower ETK expression. ETK was also detected in RCC cell lines. Moreover, the down-regulating ETK significantly inhibited RCC cell growth, migration, invasion and promoted apoptosis. The expression of VEGF and p-STAT3 were also decreased.
Conclusions
Our study suggests that the overexpression of ETK is associated with the malignancy and disease progression of RCC. Since ETK is also involved in RCC cell biological function and VEGF-ETK-STAT3 loop, ETK may be used as a potential therapeutic target for RCC.