01.12.2018 | Research article | Ausgabe 1/2018 Open Access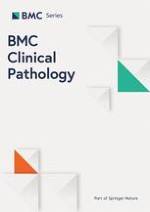 The expression of MDM2 in gastrointestinal stromal tumors: immunohistochemical analysis of 35 cases
Zeitschrift:
Autoren:

Boubacar Efared, Gabrielle Atsame-Ebang, Layla Tahiri, Ibrahim Sory Sidibé, Fatimazahra Erregad, Nawal Hammas, Samia Arifi, Ihsane Mellouki, Abdelmalek Ousadden, Khalid Mazaz, Hinde El Fatemi, Laila Chbani
Abstract
Background
Gastrointestinal stromal tumors (GIST) are the most common primary mesenchymal tumors of the digestive system. The assessment of their biological behavior still remains a scientific challenge. To date, there are no well-established biological prognostic markers of GIST. Our aim is to study the expression of the MDM2 oncoprotein in GIST through an immunohistochemical analysis.
Methods
It was a retrospective study of 35 cases of GIST diagnosed from 2009 to 2012 in the department of pathology of Hassan II university hospital, Fès, Morocco. MDM2 immunohistochemical staining was performed on archival paraffin-embedded and formalin-fixed specimens (with a threshold of nuclear positivity > 10%). Analysis of correlations between MDM2 immunoexpression and clinicopathological features of GIST has been performed.
Results
The mean age was 55.23 years (range 25–84 years) with a male predominance (sex ratio = 1.5). The stomach was the main site of GIST, with 17 cases (48.57%) followed by the small bowel (9 cases, 25.71%). The spindle cell type GIST was the most frequent morphological variant (29 cases, 82.85%). Tumor necrosis was present in 8 cases (22.85%). Two patients (5.71%) had very low risk GIST, 5 (14.28%) had low risk GIST, 7 patients (20%) had intermediate risk tumors. The remaining 21 cases (60%) had high risk GIST. At the time of diagnosis, 9 patients (25.71%) had metastatic tumors. At immunohistochemical analysis, 40% of cases (14 patients) stained positive for MDM2. Of these MDMD2-positive tumors, 11/14 (78.57%) had high risk tumors and 8/14 cases (57.14%) presented with metastatic GIST. MDM2 positivity was significantly associated with the metastatic status (
p
 = 0.001).
Conclusion
The current study suggests that MDM2 immunohistochemical expression is a negative histoprognostic factor in GIST with a statistically significant correlation with metastasis.