01.12.2014 | Research | Ausgabe 1/2014 Open Access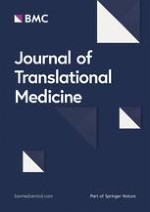 The expression of TGF-β1, Smad3, phospho-Smad3 and Smad7 is correlated with the development and invasion of nonfunctioning pituitary adenomas
Zeitschrift:
Autoren:

Li Zhenye, Li Chuzhong, Wu Youtu, Lan Xiaolei, Cao Lei, Hong Lichuan, Wang Hongyun, Wu Yonggang, Wang Fei, Zhang Yazhuo
Wichtige Hinweise
Electronic supplementary material
The online version of this article (doi:
10.​1186/​1479-5876-12-71
) contains supplementary material, which is available to authorized users.
Competing interests
The authors declare that they have no conflict of interest.
Authors' contributions
LZ, LC and ZY participated in the study design and wrote the paper. LZ, WY, HL, CL and WH carried out the experimental studies. LX, WY and WF participated in manuscript revision. All authors read and approved the final manuscript.
Abstract
Background
Transforming growth factor β (TGF-β) signaling functions as a suppressor or a promoter in tumor development, depending on the tumor stage and type. However, the role of TGF-β signaling in nonfunctioning pituitary adenomas (NFPAs) has not been explored.
Methods
TGF-β1, Smad2, phospho-Smad2 (p-Smad2), Smad3, phospho-Smad3 (p-Smad3), Smad4, and Smad7 were detected in 5 cases of normal anterior pituitaries, 29 cases of invasive NFPAs, and 21 cases of noninvasive NFPAs by real-time quantitative reverse transcription polymerase chain reaction (qRT-PCR), Western blot, and immunohistochemical analysis.
Results
The Smad3 and p-Smad3 protein levels gradually decreased from normal anterior pituitaries, noninvasive NFPAs, to invasive NFPAs. However, there were no significant differences in Smad2 (
P
 = 0.122) and p-Smad2 protein levels (
P
 = 0.101) or Smad2 mRNA level (
P
 = 0.409). In addition, the TGF-β1 mRNA level gradually decreased while the Smad7 mRNA level gradually increased from normal anterior pituitaries, noninvasive NFPAs, to invasive NFPAs. Furthermore, proliferating cell nuclear antigen (PCNA) mRNA level was markedly increased in invasive NFPAs compared to noninvasive ones (
P
 < 0.01), and its level was negatively correlated with Smad3 mRNA level (
P
 < 0.01).
Conclusion
The activity of TGF-β signaling may be restrained in NFPAs and is correlated with the development and invasion of NFPAs.