01.03.2012 | Original Article | Ausgabe 3/2012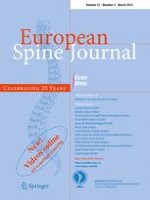 The Fernstrom ball revisited
Zeitschrift:
Autoren:

Krzysztof B. Siemionow, Xiaobang Hu, Isador H. Lieberman
Abstract
Introduction
In 1959, Harmon was the first to implant a vitallium sphere into the intervertebral disc space in order to preserve mobility and maintain disc height in patients with back pain secondary to degenerative disc disease. Fernstrom reported good results after implantation of stainless steel spheres. However, a reduction in disc height frequently occurred secondary to sphere subsidence into the endplates. This often led to revision surgery, and the concept was abandoned.
Materials and methods
We report on four patients who underwent cobalt–chrome sphere implantation, and later presented to us with symptoms that were a direct result of sphere subsidence. All four patients presented with low back pain and/or lower extremity pain, and some with weakness. Imaging demonstrated that all patients had a loss of disc space height with sphere subsidence. Three patients underwent sphere removal, anterior interbody fusion using femoral ring allograft and posterior pedicle or facet screw fixation. In the fourth patient, the sphere was subsided into both the L5 and S1 endplates prohibiting removal. The patient underwent a posterior L5–S1 posterolateral fusion and facet screw fixation. The length of time from sphere implantation to the revision surgery ranges from 8 to 41 months.
Results
Ten months to 3 years after the revision surgery, all four patients reported an improvement in outcome.
Conclusion
To the best of our knowledge, this is the first report describing the complications resulting from cobalt chrome sphere implantation and revision strategies for managing the recently resurrected cobalt chrome sphere.