01.12.2018 | Case report | Ausgabe 1/2018 Open Access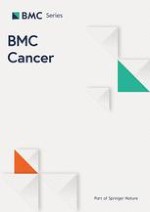 The first case of SMARCB1 (INI1) - deficient squamous cell carcinoma of the pleura: a case report
Zeitschrift:
Autoren:

Kazushi Yoshida, Yutaka Fujiwara, Yasushi Goto, Takashi Kohno, Akihiko Yoshida, Koji Tsuta, Yuichiro Ohe
Abstract
Background
SMARCB1 (INI1)
is a tumor-suppressor gene located at 22q11.2. Loss of SMARCB1 protein expression has been reported to be associated with atypical teratoid/rhabdoid tumors and malignant rhabdoid tumors of the kidney and extrarenal tissues. To date, however, SMARCB1-deficient carcinoma of the pleura has not been reported. We report the first case of SMARCB1- deficient squamous cell carcinoma of the pleura.
Case presentation
The case was a 33-year-old female. She was diagnosed squamous cell carcinoma of the pleura by thoracoscopy. The tumor cells were completely negative for SMARCB1 protein expression by immunohistochemistry. She received six cycles of cisplatin plus gemcitabine therapy and TS-1 monotherapy, however, her disease progressed rapidly with worsening chest pain and dyspnea, and she died at 10 months after diagnosis.
Conclusions
This is the first report of SMARCB1-deficient squamous cell carcinoma of pleura. The tumor was highly aggressive and carried a poor prognosis with short survival. The clinical features and treatments of this tumor are not clear, and additional cases will assist the establishment of treatments.