21.12.2017 | Original Article – Cancer Research | Ausgabe 2/2018 Open Access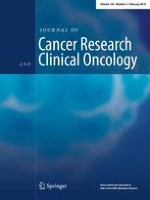 The function of BTG3 in colorectal cancer cells and its possible signaling pathway
Zeitschrift:
Autoren:

Chi Lv, Heling Wang, Yuxin Tong, Hongzhuan Yin, Dalu Wang, Zhaopeng Yan, Yichao Liang, Di Wu, Qi Su
Abstract
Purpose
B-cell translocation gene 3 (BTG3) has been identified as a candidate driver gene for various cancers, but its specific role in colorectal cancer (CRC) is poorly understood. We aimed to investigate the relationship between expression of BTG3 and clinicopathological features and prognosis, as well as to explore the effects and the role of a possible BTG3 molecular mechanism on aggressive colorectal cancer behavior.
Methods
BTG3 expression was assessed by immunohistochemistry (IHC) on specimens from 140 patients with CRC. The association of BTG3 expression with clinicopathological features was examined. To confirm the biological role of BTG3 in CRC, two CRC cell lines expressing BTG3 were used and BTG3 expression was knocked down by shRNA. CCK-8, cell cycle, apoptosis, migration, and invasion assays were performed. The influence of BTG3 knockdown was further investigated by genomic microarray to uncover the potential molecular mechanisms underlying BTG3-mediated CRC development and progression.
Results
BTG3 was downregulated in colorectal cancer tissues and positively correlated with pathological classification (
p
 = 0.037), depth of invasion (
p
 = 0.016), distant metastasis (
p
 = 0.024), TNM stage (
p
 = 0.007), and overall survival (OS) and disease-free survival (DFS). BTG3 knockdown promoted cell proliferation, migration, invasion, relieved G2 arrest, and inhibited apoptosis in HCT116 and LoVo cells. A genomic microarray analysis showed that numerous tumor-associated signaling pathways and oncogenes were altered by BTG3 knockdown. At the mRNA level, nine genes referred to the extracellular-regulated kinase/mitogen-activated protein kinase pathway were differentially expressed. Western blotting revealed that BTG3 knockdown upregulated PAK2, RPS6KA5, YWHAB, and signal transducer and activator of transcription (STAT)3 protein levels, but downregulated RAP1A, DUSP6, and STAT1 protein expression, which was consistent with the genomic microarray data.
Conclusions
BTG3 expression might contribute to CRC carcinogenesis. BTG3 knockdown might strengthen the aggressive colorectal cancer behavior.