28.01.2020 | Review | Ausgabe 1/2020 Open Access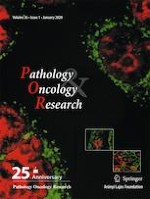 The Function of NM23-H1/NME1 and Its Homologs in Major Processes Linked to Metastasis
Zeitschrift:
Autoren:

Barbara Mátyási, Zsolt Farkas, László Kopper, Anna Sebestyén, Mathieu Boissan, Anil Mehta, Krisztina Takács-Vellai
Wichtige Hinweise
Publisher's Note
Springer Nature remains neutral with regard to jurisdictional claims in published maps and institutional affiliations.
Abstract
Metastasis suppressor genes (MSGs) inhibit different biological processes during metastatic progression without globally influencing development of the primary tumor. The first MSG, NM23 (non-metastatic clone 23, isoform H1) or now called NME1 (stands for non-metastatic) was identified some decades ago. Since then, ten human NM23 paralogs forming two groups have been discovered. Group I NM23 genes encode enzymes with evolutionarily highly conserved nucleoside diphosphate kinase (NDPK) activity. In this review we summarize how results from NDPKs in model organisms converged on human NM23 studies. Next, we examine the role of NM23-H1 and its homologs within the metastatic cascade, e.g. cell migration and invasion, proliferation and apoptosis. NM23-H1 homologs are well known inhibitors of cell migration.
Drosophila
studies revealed that AWD, the fly counterpart of NM23-H1 is a negative regulator of cell motility by modulating endocytosis of chemotactic receptors on the surface of migrating cells in cooperation with Shibire/Dynamin; this mechanism has been recently confirmed by human studies. NM23-H1 inhibits proliferation of tumor cells by phosphorylating the MAPK scaffold, kinase suppressor of Ras (KSR), resulting in suppression of MAPK signalling. This mechanism was also observed with the
C. elegans
homolog, NDK-1, albeit with an inverse effect on MAPK activation. Both NM23-H1 and NDK-1 promote apoptotic cell death. In addition, NDK-1, NM23-H1 and their mouse counterpart NM23-M1 were shown to promote phagocytosis in an evolutionarily conserved manner. In summary, inhibition of cell migration and proliferation, alongside actions in apoptosis and phagocytosis are all mechanisms through which NM23-H1 acts against metastatic progression.