23.12.2016 | Epidemiology • Original Article | Ausgabe 2/2017 Open Access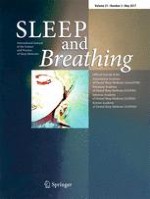 The gender difference of snore distribution and increased tendency to snore in women with menopausal syndrome: a general population study
Zeitschrift:
Autoren:

Li-Pang Chuang, Shih-Wei Lin, Li-Ang Lee, Hsueh-Yu Li, Chih-Hao Chang, Kuo-Chin Kao, Li-Fu Li, Chung-Chi Huang, Cheng-Ta Yang, Ning-Hung Chen
Abstract
Purpose
Sleep-disordered breathing (SDB) is a prevalent disorder with a major impact in women, especially postmenopausal women. However, few studies have investigated the prevalence of a specific SDB, snoring, among women especially those with menopausal syndrome.
Methods
Computer-assisted telephone interviews were conducted in Taiwan. Adults over 20 years of age were interviewed. The number of successful interviews was calculated based on the population prior to the study. Demographic data and information about snoring, menopausal syndrome, and medical conditions were obtained.
Results
In total, 3624 adults, 1473 males and 2151 females, completed the interviews. Both men and women shows an increase in snoring until age 50 to 59 years, followed by a decline in snoring that is less steep among women. The prevalence of snoring increased significantly in females after age 50 years, which is the mean menopausal age in our country (
p
< 0.05). After adjusting for age, body mass index, and other major diseases, the percentage of women with snoring was significantly higher among those with menopausal syndrome than those without menopausal syndrome (
p
= 0.021, odds ratio = 1.629).
Conclusions
This population-based study revealed different snoring percentages among men and women and diminishing differences in the older population. Additionally, the percentage of women with snoring was increased among those women who were older than 50 years and those with menopausal syndrome.