01.12.2017 | Research article | Ausgabe 1/2017 Open Access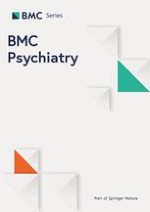 The global prevalence of postpartum psychosis: a systematic review
Zeitschrift:
Autoren:

Rachel VanderKruik, Maria Barreix, Doris Chou, Tomas Allen, Lale Say, Lee S. Cohen, on behalf of the Maternal Morbidity Working Group
Wichtige Hinweise
Electronic supplementary material
The online version of this article (doi:
10.​1186/​s12888-017-1427-7
) contains supplementary material, which is available to authorized users.
Background
Methods
The protocol for all the systematic reviews associated with the maternal morbidity initiative was adapted from the peer-reviewed methodology established for the WHO Systematic Review of Maternal Morbidity and Mortality [
27
]. Both the search strategy and inclusion criteria, which have been described elsewhere, were tailored for the purposes of this review [
27
,
28
]. Data for this study were identified by searches of PubMed, CiNAHL, EMBASE, PsycINFO, Sociological Collections, and Global Index Medicus and references from relevant articles with the search terms including "pregnancy", "mothers", "postpartum", "epidemiologic methods", "mood disorders", "anxiety disorders", "psychosis", and "schizophrenia". Search terms were modified for each of the databases by a librarian at the WHO headquarters in Geneva, Switzerland. See Additional file
1
for example search strategy of one database. We focused on publications irrespective of language since the year 1990 and the search was conducted in June 2014. Criteria for inclusion of studies in the review were: inclusion of primary data relevant to pre-defined mental health conditions, specified dates for data collection period, limited to data from 1990 onwards, sample size >200 and a clear description of methodology. While the onset of postpartum psychosis typically occurs within the first month after delivery, there is inconsistency in the field of what constitutes the postpartum timeframe for maternal morbidities [
29
], so the search included any articles referencing the "postpartum" period. All appropriate study designs (i.e., cross-sectional, cohort/longitudinal, controlled trial, incidence/prevalence survey, case-control) were included; for case-control studies, the sample size of the cases arm had to be over 200. Additionally, we sought summary estimates and not individual level patient data.
Over 24,000 reports were screened (by RV & MB) initially by titles and/or abstracts of which almost 23,000 were excluded upon initial title and/or abstract screen. Of the remaining approximately 1000 reports, almost 700 were included upon rescreening (by RV &MB) to be retrieved for full-text review. In a 2-step process, the same two reviewers independently determined whether studies met inclusion criteria. In step 1, each reviewer assessed and categorized abstracts of articles as "included," "unsure," or "excluded." Discrepancies were resolved by consensus; a third reviewer (DC) adjudicated unresolved disputes and the judgment of this third reviewer was considered final. Based on title and abstract, we then categorized articles by conditions covered in the study (e.g. depression, anxiety, psychosis, etc.). For the purposes of this review, we focused on articles that included psychosis prevalence or incidence data as discussed in the introduction. If the conditions discussed in a given article were unclear or unstated, the full text was pulled to determine whether or not there was psychosis prevalence data. Efforts to pull all full text articles were made in conjunction with the WHO librarian and diverse WHO Headquarter staff fluent in the article languages, and for translation to relevant languages were made when possible.
As an effort to ensure that all relevant studies were captured for our review, we additionally conducted a science citation index search on the previously mentioned, keystone article by Kendell et al. [
26
] that has been the primary reference for prevalence of puerperal psychosis since its publication. A total of 566 citations were identified using Web of Science. We exported titles and abstracts for these articles and conducted a screening as described above to identify any articles meeting criteria for inclusion and/or data extraction that required full text review. Despite our efforts to include all articles regardless of location and language of publication, there may be a risk of publication bias in the studies identified and included in our review, in that studies written in a certain language or reporting certain findings may be more likely to be published than others.
The selection process was repeated until all articles were ultimately categorized as included or excluded. Screening title and abstracts, 92 were identified to report on psychosis and pulled for full text review. Following full-text review, 6 articles were included for this systematic review (see Table
1
for eligibility exclusion reasons). See Fig.
1
for flow of the article search, screening, and review, following PRISMA guidelines (and see Additional file
2
for the PRISMA Checklist).
Table 1
Breakdown for Exclusion Reasons at "Eligibility" Stage
| Exclusion Reason | Number of Articles Excluded |
| --- | --- |
| No psychosis prevalence data | 41 |
| Review or editorial (i.e. not empirical study) | 16 |
| Duplicate article | 8 |
| Sample size <200 | 6 |
| Not general population | 5 |
| Dates of data collection/publication | 4 |
| Not able to access article | 4 |
| Other | 2 |
| TOTAL | 86 |
×
A data extraction instrument was used to obtain data from included studies. This instrument is composed of 40 items distributed in five modules, three of which were relevant to this review. Modules were designed to collect information on (i) the general study level characteristics such as design, population, setting, (ii) prevalence/incidence of psychological conditions, and (iii) quality assessment of reports. Reporting of definitions and of the procedures used for identification of cases was part of quality assessment. For quality appraisal, we extracted information on study design, sampling method, sources of data, completeness of follow-up or records, reported definitions and diagnostic procedures regarding outcomes. The evaluation of methodological and reporting quality was used to assess the reliability and accuracy of the data as objectively as possible, and has been described elsewhere [
27
]. Each paper was assessed for quality adequacy on four criteria and rated on a score of 1 (high – all four criteria are adequate) to 3 (low – none or only one criterion is adequate). Both RV and MB conducted separate quality reviews of each of the 6 articles; any differences were discussed and a final decision was made. (Please see Additional file
3
for complete quality assessment criteria.)
The same two reviewers (RV & MB) independently extracted data from each article using the data extraction form. See Additional file
4
for data extraction form used. A third party (DC) resolved disagreement in the same manner as for study inclusion. Given the diversity in the study design, measurement tools and definitions used, a meta-analysis of the findings was not performed. Below, we describe the included studies with an emphasis on the prevalence reported and criteria for identification of the cases. While the aim of our search was to capture prevalence data, as mentioned in the background, the majority of included studies reported on incidence of puerperal psychosis.
The funder of the study had no role in study design, data collection, data analysis, data interpretation, or writing of the report. The corresponding author had full access to all the data in the study and had final responsibility for the decision to submit for publication.
Results
The systematic search yielded a total of six studies that met the screening criteria described above (see Table
2
). Three of the studies involved reviews of national birth registries (Nager, Terp, Valdimarsdóttir), while a fourth employed data from a nationally representative household-level survey (Vesga-Lopez). These studies were conducted in Sweden (Nager and Valdmirsdóttir), Denmark (Terp) and the United States (Vesga-Lopez). As for the remaining two studies, one was conducted at a tertiary teaching institution in Ogun state, Nigeria and the other, at the community level in Maharashtra state, India, (Adefuye and Bang, respectively).
POPULATION

STUDY TYPE

DATES

NUMBER OF CASES

CONTROLS/DENOMINATOR

INCIDENCE (%)

SAMPLING

Post-partum women aged 19–43 years

Retrospective cohort study

1988–2007

23

9085

0.25% or 2.5 in 1000

All patients who developed mental disorders and were managed at Olabisi Onabanjo University Teaching Hospital

Pregnant and post-partum women aged (exact age range unknown)

Prospective observational study

1995–1996

2

772

0.26% or 2.6 in 1000

Women from catchment area of 39 intervention villages who became pregnant and were observed at home by trained village health workers, validated by physician

Primiparous women aged (exact age range unknown)

Retrospective cohort study

1975–2003

1413

1133,368

0.12% or 1.2 in 1000

All first-time mothers admitted to hospital due to psychiatric disorders up to 3 months after delivery (based on national registries)

Postpartum women aged years (exact age range unknown)

Incidence/Prevalence Survey

1973–1993

1133

1,270,117

0.089% or 0.89 in 1000

All women who delivered in Denmark and were admitted to hospital and diagnosed with psychosis up to 3 months after delivery (based on national registries)

Valdimarsdóttir et al. [

33

]

Primiparous women aged (exact age range unknown)

Incidence/Prevalence Survey

1983–2000

892

745,596

0.12% or 1.2 in 1000

All first-time mothers who were diagnosed with psychosis up to 3 months post-partum (based on national registries)

PREVALENCE

Postpartum women aged 18–50 years

Incidence/Prevalence Survey

2001–2002

(Exact number not reported - % only)

994

0.5% or 5 in 1000

Nationally representative sample of women interviewed during the 2001–2002 National Epidemiologic Survey on Alcohol and Related Conditions.
Four of the studies employed retrospective methods extracting information from the national birth registry (Valdimarsdóttir), national birth and psychiatric registries (Terp), national birth and hospital discharge registers (Nager), or women's medical records (Adefuye) in order to calculate incidence. Vesga-Lopez utilized data from the United States National Epidemiologic Survey on Alcohol and Related Conditions survey, which gathered data from face-to-face interviews conducted in households across all 50 states and the District of Columbia to estimate prevalence. Bang et al. describes the only observational study that met the inclusion criteria, whereby community health workers visited a woman at home and assessed her condition (a physician validated the information and diagnosis was made by a computer program). One other study (Okano, 1998) fit our criteria [
30
], however it was not included in this review due to unclear methodology for prevalence calculations. Additionally, various studies presented above collected data prior to 1990; however in each case, authors were contacted and did not respond to email queries about either calculation methods nor data disaggregation, respectively. Given that the articles without disaggregated data were of high quality, they were included, although the Okano article was not included as the authors found the lack of transparency in calculations a major flaw.
Three studies, Nager, Terp and Valdimarsdóttir, extracted the women's psychosis diagnoses from her records, as completed by a medical professional in national birth registries using International Classification of Diseases (ICD) coding. Terp also used admission information from hospital records from the Danish Psychiatric Central Register while Nager employed data from the Swedish national discharge register, both of which applied ICD codes for diagnosis. The Vesga-Lopez study, which drew from the national health survey of households in the United States, asked women to indicate whether a doctor or other medical professional had ever diagnosed her with schizophrenia or a psychotic disorder. Adefuye and Bang used women's medical records or community health workers making home visits, respectively, to attain a diagnosis; the studies fail to detail the coding or diagnosis instruments used by the medical professional or community health workers to assess the woman's psychotic state.
Most included studies reported on incidence (
n
= 5) and one study reported prevalence rates. Puerperal psychosis prevalence or incidence was assessed at various perinatal timeframes across the included studies. Most studies included only the postpartum period, but this timeframe varied across studies from a 2–32 day range [
31
], to up to a year postpartum [
32
]. One study compared incidence rates between two different postpartum time periods, breaking postpartum psychosis incidence down into two categories: within 90 days postpartum and after 90 days postpartum [
33
]. One study also included the pregnancy time period [
34
], although both of the psychosis cases reported in this study occurred during the puerperium period, and were associated with adverse perinatal outcomes.
The reported incidence of perinatal psychosis among our included studies ranged from 0.89 to 2.6 in 1000 women, aligning with the commonly reported prevalence rate of 1–2 per 1000 [
26
]. Terp et al. reported the lowest incidence (0.89 in 1000) in the study that had the greatest sample size (over 1.25 million), and assessed the time period of within 3 months postpartum. Of the six included studies in this review, Vesga-Lopez (2008) was the only study that reported prevalence of postpartum psychosis (5 in 1000). It is worth mentioning that the cases of psychotic disorder for this study were self-reported ("psychotic disorders were indicated by asking the respondent if she was ever told by a doctor or other health professional that she had schizophrenia or a psychotic disorder"). Additionally, the timeframe covered the entire year postpartum, which may also factor into the higher prevalence found. The sample size for Vesga-Lopez (2008) was the second smallest of our included studies, including 994 women. The study that reported the highest incidence rate (2.6 in 1000) was from Bang et al. [
34
], which the smallest sample size of our included studies (
N
= 772). The prevalence estimate was higher than any of the incidence estimates. Among the incidence studies, the highest estimates were among those studies with smaller sample sizes. However, given the limited number of studies included in this review, we are not able to draw a strong conclusion on how estimates differ by methodologies or sample sizes.
Discussion
Conclusions
This review confirms the relatively low rate of puerperal psychosis; yet the paucity of studies that meet our eligibility criteria highlights the critical gap in knowledge of puerperal psychosis prevalence from large-scale studies worldwide. As described above, postpartum psychosis is a key marker for the risk of future affective disorder, which is significant contributor to the global burden of disease [
7
,
43
]. We recommend that further attention be given to identifying puerperal psychosis and monitoring incidence more consistently on a global scale. Appropriate detection of puerperal psychosis is needed to increase chances that a women will receive adequate treatment, which could help to mitigate the global disease burden and improve maternal and newborn health.
Acknowledgements
The authors thank the members of the WHO Maternal Morbidity Working Group for their inputs as well as their overall guidance on the project. Members include (in alphabetical order): Kelli Barbour, Jose Guilherme Cecatti, Sara Cottler, Olubukola Fawole, Tabassum Firoz, Luis Gadama, Atf Ghérissi, Gill Gyte, Michelle Hindin, Anoma Jayathilaka, Amanda Kalamar, Yacouba Kone, Isabelle Lange, Laura A. Magee, Arvind Mathur, Affette McCaw Binns, Mark Morgan, Stephen Munjanja, Gathari Ndirangu Gichuhi, Max Petzold, Elizabeth Sullivan, Frank Taulo, Özge Tunçalp, and Peter von Dadelszen.
Availability of data and materials
Available upon request.
Funding
The initiative described in this article is funded by the Bill and Melinda Gates Foundation and the WHO's Department of Reproductive Health and Research through the Special Programme of Research, Development and Research Training in Human Reproduction.
Disclaimer
The authors alone are responsible for the views expressed in this article and they do not necessarily represent the views, decisions or policies of the institutions with which they are affiliated.
Ethics approval and consent to participate
Not applicable.
Consent for publication
Not applicable.
Competing interests
The authors declare that they have no competing interests.
Publisher's Note
Springer Nature remains neutral with regard to jurisdictional claims in published maps and institutional affiliations.
Open Access
This article is distributed under the terms of the Creative Commons Attribution 4.0 International License (
http://​creativecommons.​org/​licenses/​by/​4.​0/​
), which permits unrestricted use, distribution, and reproduction in any medium, provided you give appropriate credit to the original author(s) and the source, provide a link to the Creative Commons license, and indicate if changes were made. The Creative Commons Public Domain Dedication waiver (
http://​creativecommons.​org/​publicdomain/​zero/​1.​0/​
) applies to the data made available in this article, unless otherwise stated.