01.12.2014 | Review | Ausgabe 1/2014 Open Access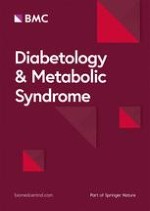 The goal of blood pressure in the hypertensive patient with diabetes is defined: now the challenge is go from recommendations to practice
Zeitschrift:
Autoren:

Patricio Lopez-Jaramillo, Jose Lopez-Lopez, Cristina Lopez-Lopez, Miguel I Rodriguez-Alvarez
Wichtige Hinweise
Competing interests
The authors declare that they have no competing interests.
Authors' contributions
PL-J and IR-A conceive and design the manuscript JL-L and CL-L participate in acquisition of data. All authors have been involved in drafting the manuscript and have given final approval of the version to be published.
Abstract
The recent Latin American and European guidelines published this year has proposed as a goal for blood pressure control in patients with diabetes type 2 a value similar or inferior to 140/90 mmHg. High blood pressure is the leading cause of cardiovascular diseases and deaths globally. Although once hypertension is detected, 80% of individuals are on a pharmacologic therapy only a minority is controlled. Diabetes also is a risk factor for other serious chronic diseases, including cardiovascular disease. Whether specifically targeting lower fasting glucose levels can reduce cardiovascular outcomes remains unknown. Hypertension is present in 20% to 60% of patients with type 2 diabetes, depending on age, ethnicity, obesity, and the presence of micro or macro albuminuria. High blood pressure substantially increases the risk of both macro and micro vascular complications, doubling the risk of all-cause mortality and stroke, tripling the risk of coronary heart disease and significantly hastening the progression of diabetic nephropathy, retinopathy, and neuropathy. Thus, blood pressure lowering is a major priority in preventing cardiovascular and renal events in patients with diabetes and hypertension. During many years the BP goals recommended in patients with diabetes were more aggressive than in patients without diabetes. As reviewed in this article many clinical trials have demonstrated not only the lack of benefits of lowering the BP below 130/80 mmHg, but also the J-shaped relationship in DM patients. Overall we discuss the importance of define the group of patients in whom significant BP reduction could be particularly dangerous and, on the other hand, those with a high risk of stroke who could benefit most from an intensive hypotensive therapy. In any case, the big challenge now is avoid the therapeutic inertia (leaving diabetic patients with BP values of 140/90 mmHg or higher) at all costs, as this would lead to an unacceptable toll in terms of human lives, suffering, and socioeconomic costs.