01.01.2012 | Review Article | Ausgabe 1/2012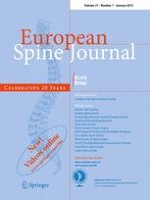 The growing spine: how spinal deformities influence normal spine and thoracic cage growth
Zeitschrift:
Autoren:

Alain Dimeglio, Federico Canavese
Abstract
Purpose
This article aims to provide an overview of how spinal deformities can alter normal spine and thoracic cage growth.
Methods
Some of the data presented in this article are gathered from studies performed in 1980 and 1990, and their applicability to populations of different ethnicity, geography or developmental stage has not yet been elucidated. In the present article, older concepts have been integrated with newer scientific data available to give the reader the basis for a better understanding of both normal and abnormal spine and thoracic cage growth.
Results
A thorough analysis of different parameters, such as weight, standing and sitting height, body mass index, thoracic perimeter, arm span, T1–S1 spinal segment length, and respiratory function, help the surgeon to choose the best treatment modality. Respiratory problems can develop after a precocious vertebral arthrodesis or as a consequence of pre-existing severe vertebral deformities and can vary in patterns and timing, according to the existing degree of deformity. The varying extent of an experimental arthrodesis also affects differently both growth and thoracopulmonary function.
Conclusions
Growth is a succession of acceleration and deceleration phases and a perfect knowledge of normal growth parameters is mandatory to understand the pathologic modifications induced on a growing spine by an early onset spinal deformity. The challenges associated with the growing spine for the surgeon include preservation of the thoracic spine, thoracic cage, and lung growth without reducing spinal motion.