12.05.2017 | Article | Ausgabe 8/2017 Open Access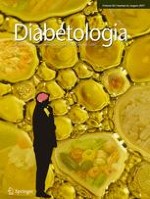 The human serum protein C4b-binding protein inhibits pancreatic IAPP-induced inflammasome activation
Zeitschrift:
Autoren:

Klaudia Kulak, Gunilla T. Westermark, Nikolina Papac-Milicevic, Erik Renström, Anna M. Blom, Ben C. King
Wichtige Hinweise
Electronic supplementary material
The online version of this article (doi:
10.​1007/​s00125-017-4286-3
) contains peer-reviewed but unedited supplementary material, which is available to authorised users.
Anna M. Blom and Ben C. King contributed equally to this work.
Abstract
Aims/hypothesis
Inflammasome activation and subsequent IL-1β production is a driver of islet pathology in type 2 diabetes. Oligomers, but not mature amyloid fibrils, of human islet amyloid polypeptide (IAPP), which is co-secreted with insulin, trigger NOD-like receptor pyrin domain containing-3 (NLRP3) inflammasome activation. C4b-binding protein (C4BP), present in serum, binds to IAPP and affects transition of IAPP monomers and oligomers to amyloid fibrils. We therefore hypothesised that C4BP inhibits IAPP-mediated inflammasome activation and IL-1β production.
Methods
Macrophages were exposed to IAPP in the presence or absence of plasma-purified human C4BP, and inflammasome activation was assessed by IL-1β secretion as detected by ELISA and reporter cell lines. IAPP fibrillation was assessed by thioflavin T assay. Uptake of IAPP–C4BP complexes and their effects on phagolysosomal stability were assessed by flow cytometry and confocal microscopy. The effect of C4BP regulation of IAPP-mediated inflammasome activation on beta cell function was assessed using a clonal rat beta cell line. Immunohistochemistry was used to examine the association of IAPP amyloid deposits and macrophage infiltration in isolated human and mouse pancreatic islets, and expression of C4BP from isolated human pancreatic islets was assessed by quantitative PCR, immunohistochemistry and western blot.
Results
C4BP significantly inhibited IAPP-mediated IL-1β secretion from primed macrophages at physiological concentrations in a dose-dependent manner. C4BP bound to and was internalised together with IAPP. C4BP did not affect IAPP uptake into phagolysosomal compartments, although it did inhibit its formation into amyloid fibrils. The loss of macrophage phagolysosomal integrity induced by IAPP incubation was inhibited by co-incubation with C4BP. Supernatant fractions from macrophages activated with IAPP inhibited both insulin secretion and viability of clonal beta cells in an IL-1β-dependent manner but the presence of C4BP during macrophage IAPP incubation rescued beta cell function and viability. In human and mouse islets, the presence of amyloid deposits correlated with higher numbers of infiltrating macrophages. Isolated human islets expressed and secreted C4BP, which increased with addition of IL-1β.
Conclusions/interpretation
IAPP deposition is associated with inflammatory cell infiltrates in pancreatic islets. C4BP blocks IAPP-induced inflammasome activation by preventing the loss of macrophage phagolysosomal integrity required for NLRP3 activation. The consequence of this is the preservation of beta cell function and viability. C4BP is secreted directly from human pancreatic islets and this increases in response to inflammatory cytokines. We therefore propose that C4BP acts as an extracellular chaperone protein that limits the proinflammatory effects of IAPP.