01.12.2017 | Research article | Ausgabe 1/2017 Open Access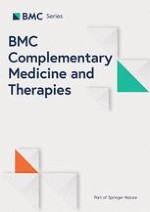 The immune-regulating effect of Xiao'er Qixingcha in constipated mice induced by high-heat and high-protein diet
Zeitschrift:
Autoren:

Chang Qu, Guang-Hua Yang, Rong-Bo Zheng, Xiu-Ting Yu, Shao-Zhong Peng, Jian-Hui Xie, Jian-Nan Chen, Xiu-Fen Wang, Zi-Ren Su, Xiao-Jun Zhang
Abstract
Background
Xiao'er Qixingcha (EXQ) has been extensively applied to relieve dyspepsia and constipation in children for hundreds of years in China. However, the therapeutic mechanism underlying its efficacy remained to be defined. The present study aimed to clarify the possible laxative and immune-regulating effects of EXQ on two models of experimental constipation in mice, which mimicked the pediatric constipation caused by high-heat and high-protein diet (HHPD).
Methods
The two models of constipated mice were induced by HHPD or HHPD + atropine respectively. To investigate the laxative and immune-regulating activities of EXQ, animals were treated with three doses of EXQ (0.75, 1.5 and 3 g/kg) for 7 consecutive days. The fecal output parameters (number and weight), weight of intestinal content and, the thymus and spleen indexes were measured. The levels of sIgA, IL-10, TNF-α and LPS in colon and serum were determined by ELISA. Furthermore, the pathological changes of colon tissue were examined after routine H&E staining.
Results
Both HHPD and HHPD + atropine treatments obviously inhibited the fecal output and reduced the colonic sIgA, prominently increased the levels of IL-10 and TNF-α in colonic tissue and elevated the contents of LPS in serum and colonic tissues. In contrast, oral administration of EXQ significantly improved the feces characters and dose-dependently decreased the intestinal changes in both models. In HHPD model test, EXQ efficaciously boosted the sIgA level in a dose-dependent manner, significantly elicited decreases in TNF-α and IL-10 levels, and evidently decreased the spleen and thymus indexes. In HHPD + atropine model test, EXQ treatment reversed the pathological changes by not only dramatically decreasing the spleen index and the levels of LPS and IL-10, but also markedly elevating the thymus index. Furthermore, microscopic observation revealed that EXQ treatment maintained the integrity of colonic mucosa, and protected the colonic tissues from inflammation in the both models.
Conclusions
EXQ exhibited prominent laxative activity and effectively protected the colonic mucosal barrier in two models of constipated mice, of which the mechanism might be closely associated with its propulsive and immune-regulating properties. The current results not only validated the rationale for the clinical application of EXQ in pediatric constipation related symptoms, but also threw new light on the immune-inflammatory responses accompanied with chronic constipation pathology.