01.09.2009 | Review | Ausgabe 9/2009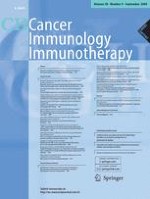 The immunologic aspects of poxvirus oncolytic therapy
Zeitschrift:
Autoren:

Andrea Worschech, D. Haddad, D. F. Stroncek, E. Wang, Francesco M. Marincola, Aladar A. Szalay
Wichtige Hinweise
A. A. Szalay and F. M. Marincola are co-senior authors.
Abstract
The concept of using replicating oncolytic viruses in cancer therapy dates to the beginning of the twentieth century. However, in the last few years, an increasing number of pre-clinical and clinical trials have been carried out with promising preliminarily results. Novel, indeed, is the suggestion that viral oncolytic therapy might not operate exclusively through an oncolysis-mediated process but additionally requires the "assistance" of the host's immune system. Originally, the host's immune response was believed to play a predominant obstructive role against viral replication, hence limiting the anti-tumor efficacy of viral vectors. Recent data, however, suggest that the immune response may also play a key role in promoting tumor destruction in association with the oncolytic process. In fact, immune effector pathways activated during oncolytic virus-induced tumor rejection seem to follow a similar pattern to those observed when the broader phenomenon of immune-mediated tissue-specific rejection occurs in other immune-related pathologies. We recently formulated the "Immunologic Constant of Rejection" hypothesis, emphasizing commonalties in transcriptional patterns observed when tissue-destruction occurs: whether with a favorable outcome, such as in tumor rejection and pathogen clearance; or a destructive one, such as in allograft rejection or autoimmunity. Here, we propose that a similar mechanism induces clearance of virally infected tumors and that such a mechanism is primarily dependent on innate immune functions.