17.10.2016 | Original Research | Ausgabe 4/2016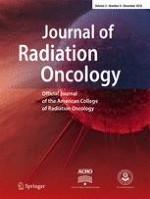 The impact of 3D conformal radiotherapy versus intensity-modulated radiotherapy on post-operative wound complications in soft tissue sarcomas of the extremity and chest-wall
Zeitschrift:
Autoren:

Hina Saeed, Candice Johnstone, David M. King, John Charlson, Donald A. Hackbarth, John C. Neilson, Manpreet Bedi
Abstract
Background
Pre-operative radiotherapy (RT) followed by limb-sparing resection is commonly used to treat soft tissue sarcomas (STS) of the extremity and chest-wall; however, this is associated with an increased risk of post-operative wound complications (WCs) compared to adjuvant RT. The use of intensity-modulated radiotherapy (IMRT) in STS has been investigated; however, the impact on WC is sparsely reported. In this study, we assess the rates of WC in patients who underwent pre-operative 3D conformal RT (3D CRT) versus IMRT followed by surgery for STS.
Methods
From 2000 to 2012, 196 patients with localized STS were treated with RT +/− chemotherapy followed by resection. Patient, treatment variables, and outcomes were reviewed. Predictors for WC were evaluated using Fisher's exact test for univariate analysis (UVA) and logistic regression for multivariate analysis (MVA).
Results
Median follow-up was 3.5 years. Of patients, 33.7 % were treated with IMRT and 66.3 % were treated with 3D CRT. Of patients, 28.6 % developed post-operative WCs. Eighteen percent of patients developed WCs when treated with IMRT versus 33 % who received 3D CRT (
p
= 0.03). In lower extremity tumors only, 20 % of patients that received IMRT and 43 % of patients that received 3D CRT patients had WC (
p
= 0.01). On MVA, both upper extremity STS (
p
= 0.0005, OR 0.14) and IMRT (
p
= 0.02, OR 0.40) predicted for a decreased propensity for post-operative WC.
Conclusions
IMRT was associated with a significantly decreased risk of post-operative WCs compared to patients who received 3D CRT for their STS. Further studies and a larger sample size are needed to corroborate these findings.