01.09.2009 | Original article | Ausgabe 5/2009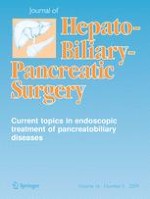 The impact of body mass index on laparoscopic cholecystectomy in Taiwan: an oriental experience
Zeitschrift:
Autoren:

Wen-Tsan Chang, King-Teh Lee, Meng-Chuan Huang, Jong-Shyone Chen, Hung-Che Chiang, Kung-Kai Kuo, Shin-Chang Chuang, Sen-Ren Wang, Chen-Guo Ker
Abstract
Background/Purpose
The outcome analysis of obese patients undergoing laparoscopic cholecystectomy (LC) in Asia–Pacific countries is rarely reported. This study examined associations between body mass index (BMI) and clinical outcomes of elective LC in Taiwan.
Methods
A total of 627 patients with gallbladder disease due to gallstones undergoing LC were divided into three groups based on BMI: <25.0 kg/m
2
(normal, NO;
n
= 310), 25.0–29.9 kg/m
2
(overweight, OW;
n
= 252), and >30 kg/m
2
(obese, OB;
n
= 65).
Results
Both overweight and obesity were not associated with conversion and complication rates. The conversion rates of the three groups were 5.5 (NO), 6.0 (OW), and 4.6% (OB), and the complication rates were 3.2 (NO), 2.4% (OW), and 4.6% (OB), respectively. However, overweight and obesity were related to a trend toward longer operating time (NO 67.4 ± 31.8; OW 77.8 ± 35.6; OB 79.0 ± 37.9 min) (
P
trend <0.001). One death (BMI 40.6 kg/m
2
) was due to septic complications. In the multivariable logistic analysis, only acute cholecystitis, but not BMI, was a predictor for conversion and complications.
Conclusions
Based on these results, it appears that BMI was not associated with clinical outcomes and that LC is a safe procedure in obese patients with uncomplicated gallstone disease in Taiwan.