29.05.2019 | Original Research | Ausgabe 8/2019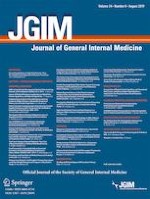 The Impact of Breast Density Notification Laws on Supplemental Breast Imaging and Breast Biopsy
Zeitschrift:
Autoren:

PhD Loren Saulsberry, MD, MPH Lydia E. Pace, MD, MPH Nancy L. Keating
Wichtige Hinweise
Prior Presentations
The findings in this manuscript were presented at the Academy Health Annual Meeting in June 2018.
Publisher's Note
Springer Nature remains neutral with regard to jurisdictional claims in published maps and institutional affiliations.
Abstract
Background
Dense breast tissue increases breast cancer risk and lowers mammography sensitivity, but the value of supplemental imaging for dense breasts remains uncertain. Since 2009, 37 states and Washington DC have passed legislation requiring patient notification about breast density.
Objective
Examine the effects of state breast density notification laws on use of supplemental breast imaging and breast biopsies.
Design
Difference-in-differences analysis of supplemental imaging and biopsies before and after notification laws in 12 states enacting breast density notification laws from 2009 to 2014 and 12 matched control states. Supplemental imaging/biopsy within 6 months following an index mammogram were evaluated during four time periods related to legislation: (1) 6 months before, (2) 0–6 months after, (3) 6–12 months after, and (4) 12–18 months after.
Participants
Women ages 40–64 years receiving an initial mammogram in a state that passed a breast density notification law or a control state.
Intervention
Mandatory breast density notification following an index mammogram.
Main Measures
Use of breast biopsies and supplemental breast imaging (breast ultrasound, tomosynthesis, magnetic resonance imaging, scintimammography, and thermography), overall and by specific test.
Key Results
Supplemental breast imaging and biopsy increased modestly in states with notification laws and changed minimally in control states. Adjusted rates of supplemental imaging and biopsy within 6 months of mammography before legislation were 8.5% and 3.1%, respectively. Compared with pre-legislation in intervention and control states, legislation was associated with adjusted difference-in-differences estimates of + 1.3% (
p
 < 0.0001) and + 0.4% (
p
 < 0.0001) for supplemental imaging and biopsies, respectively, in the 6–12 months after the law and difference-in-differences estimates of + 3.3% (
p
 < 0.0001) and + 0.8% (
p
 < 0.0001) for supplemental imaging and biopsies, respectively, 12–18 months after the law.
Conclusions
As breast density notification laws are considered, policymakers and clinicians should expect increases in breast imaging/biopsies. Additional research is needed on these laws' effects on cost and patient outcomes.