01.12.2017 | Research | Ausgabe 1/2017 Open Access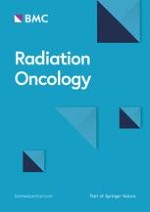 The impact of dual energy CT imaging on dose calculations for pre-clinical studies
Zeitschrift:
Autoren:

Ana Vaniqui, Lotte E. J. R. Schyns, Isabel P. Almeida, Brent van der Heyden, Stefan J. van Hoof, Frank Verhaegen
Abbreviations
CBCT
Cone beam computed tomography
DECT
Dual energy computed tomography
DECT7, DECT8, DECT9
Dual energy computed tomography segmented with 7,8 or 9 materials
SECT
Single energy computed tomography
SECT3, SECT4, SECT7
Single energy computed tomography segmented with 3,4 or 7 materials
SECT50, SECT90
Single energy computed tomography imaged with 50 or 90 kVp
ρe
Relative electron density
Background
The aim of this study is to investigate the feasibility of using dual-energy CBCT for tissue segmentation and kV dose calculations in pre-clinical studies. The main objectives are to assess potential dose calculation accuracy gain from DECT and to establish imaging protocols that allow accurate dose calculations.
While this work has no direct clinical implications, its underlying aim is to perform dose calculations as accurately as possible so as to enable rigorous subsequent clinical translation.
Methods
Results
Discussion
This study has demonstrated the high impact of incorrect material segmentation on the dose calculation accuracy for kV photon beams employed in small animal irradiators, using the different imaging modalities: SECT and DECT. The effect is aggravated with a decrease in beam energy, due to the increase in the importance of the photo-electric effect with decreasing photon energy, causing materials with different effective atomic numbers to absorb increasingly different fractions of energy in photon beams. For irradiations with photon spectra below 100 kVp, the differences would even be more pronounced.
DECT with three or four tissues is not reported. The method's advantage lies in the possibility of exploring different segmentations based on higher number of tissues. A reduced number of materials would not benefit this site.
In the soft tissue range, the benefits of DECT for the energy 225 kVp are relatively small. For small animals such as mice, the affected regions lie mainly in bony structures. For larger animals, cumulative errors could have a larger role and need further considerations. Improvements in tissue segmentation from DECT are needed for lower photon energies and proton beams in all tissues.
The boundary regions of the phantom and the inserts presented the highest source of errors for DECT. This can be explained as a partial volume effect: as two contiguous materials partially fill a voxel, they are combined into voxels that do not correspond to the CT numbers of either of the materials. This will play a larger effect in phantoms with small air gaps than in animals. Another possible and complementary explanation is that the images should have a perfect overlap with the reference phantom, a small misregistration would provide substantial differences. This is a feature DECT is sensitive to, while it plays no role for SECT images. For small shifts between two scans, due to setup or animal movement, rigid image registration could be used if potential HU errors from interpolations are minimal.
Conclusions
The feasibility of dual-energy CBCT imaging for kV dose calculations in pre-clinical studies was presented. Images were obtained using well-separated X-ray spectra were acquired with an on-board imager and different segmentation schemes were tested. The DECT method enabled the employment of a higher number of materials increasing accuracy in dose calculations. In phantom studies, both SECT and DECT presented a limit to which adding materials resulted in more imaging noise in the material maps and the dose distributions. SECT performed best with three materials and DECT with seven for the phantom case. With lower beam energies, the effect of incorrect segmentation on the dose calculations was worse, due to the importance of the photoelectric effect for the kV energy range. DECT segmentation offers the distinct advantage of taking into consideration the effective atomic number of the media. For the ex-vivo specimen, the dose calculations derived from the SECT method showed larger volumes with high doses. For kV energies, the use of DECT segmentation combined with the choice of a bone with low density and atomic number is recommended.
Acknowledgements
The authors would like to thank Blake Walters, Dr. Mark Podesta, Dr. Gabriel Fonseca, and Relinde Lieverse for useful discussions.
Funding
AV acknowledges financial support from CAPES Scholarship and Science without Borders program from Brazil (BEX 12030/13–9).
Availability of data and materials
The datasets produced and/or analysed during the current study are available from the corresponding author on reasonable request.
Ethics approval and consent to participate
Not applicable.
Consent for publication
Not applicable.
Competing interests
FV and SvH are the founders of SmART Scientific Solutions (Maastricht, Netherlands). In addition, FV and SvH declare that they have received research funding from Precision X-ray (North Branford, CT) and have commercial interests with this company.
Publisher's Note
Springer Nature remains neutral with regard to jurisdictional claims in published maps and institutional affiliations.
Open Access
This article is distributed under the terms of the Creative Commons Attribution 4.0 International License (
http://​creativecommons.​org/​licenses/​by/​4.​0/​
), which permits unrestricted use, distribution, and reproduction in any medium, provided you give appropriate credit to the original author(s) and the source, provide a link to the Creative Commons license, and indicate if changes were made. The Creative Commons Public Domain Dedication waiver (
http://​creativecommons.​org/​publicdomain/​zero/​1.​0/​
) applies to the data made available in this article, unless otherwise stated.
Footnotes
1
ρ
e
 = (
N
A
ρZ
/
A
)/(
N
A
ρ
w
Z
w
/
A
w
), where
N
A
is the Avogadro's number,
ρ
,
Z
and
A
are the mass density, atomic number, and atomic mass of a material, while the subscript
w
indicates water