01.12.2014 | Research article | Ausgabe 1/2014 Open Access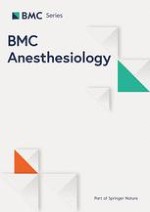 The impact of fluid intervention on complications and length of hospital stay after pancreaticoduodenectomy (Whipple's procedure)
Zeitschrift:
Autoren:

Laurence Weinberg, Derrick Wong, Dharshi Karalapillai, Brett Pearce, Chong O Tan, Stanley Tay, Chris Christophi, Larry McNicol, Mehrdad Nikfarjam
Wichtige Hinweise
Competing interests
The authors declare that they have no competing interests.
Authors' contributions
LW and MN conceived the study, participated in the final planning and study design, performed data collection and all statistical analyses; they were responsible for the final writing of the manuscript. DW, BP, COT, ST were responsible for the collection of anesthesia data, cross checking of all anesthesia records with medical records, and calculation and checking of all fluid balances. They also assisted with data entry into a database and the writing of the manuscript. DK and RB were the responsible for the collection of data in the intensive care and high dependency units, entering of data into the master database, interpretation of data, and assistance with the writing of the manuscript. CC, LM and MN were responsible for the collection of all surgical outcomes and lengths of hospital stay. They cross checked surgical records with hospital medical records. In addition they assisted with the writing of the manuscript. All authors read and approved the final manuscript.
Abstract
Background
There is limited information on the impact on perioperative fluid intervention on complications and length of hospital stay following pancreaticoduodenectomy. Therefore, we conducted a detailed analysis of fluid intervention in patients undergoing pancreaticoduodenectomy at a university teaching hospital to test the hypothesis that a restrictive intravenous fluid regime and/or a neutral or negative cumulative fluid balance, would impact on perioperative complications and length of hospital stay.
Methods
We retrospectively obtained demographic, operative details, detailed fluid prescription, complications and outcomes data for 150 consecutive patients undergoing pancreaticoduodenectomy in a university teaching hospital. Prognostic predictors for length of hospital stay and complications were determined.
Results
One hundred and fifty consecutive patients undergoing pancreaticoduodenectomy were evaluated between 2006 and 2012. The majority of patients were, middle-aged, overweight and ASA class III. Postoperative complications were frequent and occurred in 86 patients (57%). The majority of complications were graded as Clavien-Dindo Class 2 and 3. Postoperative pancreatic fistula occurred in 13 patients (9%), and delayed gastric emptying occurred in 25 patients (17%). Other postoperative surgical complications included sepsis (22%), bile leak (4%), and postoperative bleeding (2%). Serious medical complications included pulmonary edema (6%), myocardial infarction (8%), cardiac arrhythmias (13%), respiratory failure (8%), and renal failure (7%). Patients with complications received a higher median volume of intravenous therapy and had higher cumulative positive fluid balances. Postoperative length of stay was significantly longer in patients with complications (median 25 days vs. 10 days; p < 0.001). After adjustment for covariates, a fluid balance of less than 1 litre on postoperative day 1 and surgeon caseloads were associated with the development of complications.
Conclusions
In the context of pancreaticoduodenectomy, restrictive perioperative fluid intervention and negative cumulative fluid balance were associated with fewer complications and shorter length of hospital stay. These findings provide good opportunities to evaluate strategies aimed at improving perioperative care.