01.06.2008 | Original Article | Ausgabe 3/2008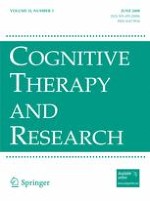 The Impact of Goal Cognition and Pain Severity on Disability and Depression in Adults with Chronic Pain: An Examination of Direct Effects and Mediated Effects via Pain-Induced Fear
Zeitschrift:
Autoren:

Paul Karoly, Morris A. Okun, Linda S. Ruehlman, John A. Pugliese
Abstract
A group of 100 adults with chronic low back pain (CLBP), drawn from a larger national sample, completed a questionnaire battery that assessed (among other things) goal conflict and goal self-efficacy, pain severity, pain-induced fear, and 3 months later, two important clinical outcomes: physical disability and depression. Consistent with emerging motivation-centered models of adaptation (e.g., Ford,
Humans as self-constructing living systems: A developmental perspective on behavior and personality
. Erlbaum, 1987; Karoly
Review of General Psychology, 3
, 264–291, 1999) and cognitive-behavioral accounts of pain-specific fears (e.g., Asmundson et al.
Clinical Psychology Review, 19
, 97–119, 1999), structural equation analyses revealed that (a) goal self-efficacy, goal conflict, and pain severity independently predicted pain-induced fear, (b) pain-induced fear fully mediated the effects of goal conflict and goal self-efficacy on physical disability and depression, and (c) pain-induced fear partially mediated the effects of severity on disability and depression. Results suggest that clinical pain specialists should treat pain-induced fear as a means of forestalling disability and depression, and that they should also seek to modify how CLBP patients think about and organize their life goals.