28.04.2018 | Original Article | Ausgabe 5/2018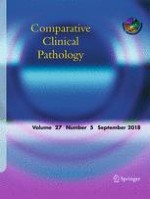 The impact of grape proanthocyanidin extract on dexamethasone-induced osteoporosis and electrolyte imbalance
Zeitschrift:
Autoren:

Nabil A. Hasona, Abdullah Morsi, Abdullah Ali Alghabban
Abstract
To evaluate the effects of osteoporosis induced by dexamethasone (DEX) and assess the possible anti-osteoporotic effect of grape seed proanthocyanidin extract (GSPE) on bone tissue of female albino rats. Thirty-two female albino rats divided into four groups: normal, DEX control, orally treated with GSPE (400 mg/kg) 7 days before DEX-injection, and orally treated with GSPE (400 mg/kg) after DEX-injection for 4 weeks. Animals received 0.1 mg/kg of dexamethasone intramuscularly three times per week for 4 weeks. After 4 weeks, the animals were sacrificed, and blood samples were collected for determination of biochemical investigations. Right, and left femurs were excised for biochemical and histological examination. DEX-induced remarkable elevation in the activities of alkaline phosphatase and acid phosphatase, and level of blood urea nitrogen (BUN) with concomitant declined in electrolyte profile (Na, K, and Ca). Lipid peroxidation marker (MDA) was significantly elevated in DEX-induced animals with concomitant declined in glutathione (GSH) content and superoxide dismutase (SOD) activity. Administration of GSPE significantly alleviates serum activities of alkaline phosphatase and acid phosphatase and blood urea nitrogen (BUN) level. GSPE attenuated DEX-induced oxidative stress and restored the antioxidant defenses. In addition, GSPE improved femur bone histological structure alterations induced by dexamethasone. GSPE possessed antioxidant potentials, and anti-osteoporotic effects against glucocorticoids induced osteoporotic rats by the maintenance of calcium homeostasis and scavenging of the free radicals which in turn induced the lipid peroxidation. Thus
,
GSPE may be a candidate as an anti-osteoporotic agent.