01.12.2014 | Research article | Ausgabe 1/2014 Open Access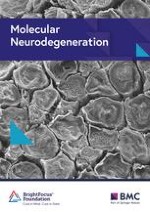 The impact of human and mouse differences in NOS2 gene expression on the brain's redox and immune environment
Zeitschrift:
Autoren:

Michael D Hoos, Michael P Vitek, Lisa A Ridnour, Joan Wilson, Marilyn Jansen, Angela Everhart, David A Wink, Carol A Colton
Wichtige Hinweise
Electronic supplementary material
The online version of this article (doi:
10.​1186/​1750-1326-9-50
) contains supplementary material, which is available to authorized users.
Competing interests
Other- Michael P. Vitek is an employee of Duke University and is the CEO of Cognosci, Inc., Research Triangle Park, North Carolina. Carol A. Colton has spousal-based, non-financial competing interest with Cognosci, Inc. and with Oncotide, Inc. Vitek and Colton conflict of interest is managed by the Duke Committee on Conflict of Interest. Remaining authors (Wink, Ridnour, Hoos, Wilson, Jansen, Everhart) have no competing interests.
Authors' contributions
MH carried out the molecular genetic studies and the measurement of NOx activity; DW provided guidance on the chemical biology of NO and provided interpretation of results; LR provided interpretation of results and assisted with production of the manuscript; JW carried out the animal experimentation procedures; MJ carried out molecular gene analysis experiments; AE performed all histochemical studies; MV provided guidance on the molecular biological and mouse genetics; CC initiated and supervised the experimental aspects of the project including data analysis and production of the manuscript. All authors read and approved the final manuscript.
Abstract
Background
Mouse models are used in the study of human disease. Despite well-known homologies, the difference in immune response between mice and humans impacts the application of data derived from mice to human disease outcomes. Nitric oxide synthase-2 (
NOS2
) is a key gene that displays species-specific outcomes via altered regulation of the gene promoter and via post-transcriptional mechanisms in humans that are not found in mice. The resulting levels of NO produced by activation of human
NOS2
are different from the levels of NO produced by mouse
Nos2
. Since both tissue redox environment and immune responsiveness are regulated by the level of NO and its interactions, we investigated the significance of mouse and human differences on brain oxidative stress and on immune activation in
HuNOS2
tg
/mNos2
-/-
mice that express the entire human
NOS2
gene and that lack a functional
mNos2
compared to wild type (WT) mice that express normal
mNos2
.
Methods/results
Similarly to human, brain tissue from
HuNOS2
tg
/mNos2
-/-
mice showed the presence of a
NOS2
gene 3′UTR binding site. We also identified miRNA-939, the binding partner for this site, in mouse brain lysates and further demonstrated reduced levels of nitric oxide (NO) typical of the human immune response on injection with lipopolysaccharide (LPS).
HuNOS2
tg
/mNos2
-/-
brain samples were probed for characteristic differences in redox and immune gene profiles compared to WT mice using gene arrays. Selected genes were also compared against
mNos2
-/-
brain lysates. Reconstitution of the human
NOS2
gene significantly altered genes that encode multiple anti-oxidant proteins, oxidases, DNA repair, mitochondrial proteins and redox regulated immune proteins. Expression levels of typical pro-inflammatory, anti-inflammatory and chemokine genes were not significantly different with the exception of increased TNFα and
Ccr1
mRNA expression in the
HuNOS2
tg
/mNos2
-/-
mice compared to WT or
mNos2
-/-
mice.
Conclusions
NO is a principle factor in establishing the tissue redox environment and changes in NO levels impact oxidative stress and immunity, both of which are primary characteristics of neurodegenerative diseases. The
HuNOS2
tg
/mNos2
-/-
mice provide a potentially useful mechanism to address critical species- specific immune differences that can impact the study of human diseases.