01.12.2015 | Research article | Ausgabe 1/2015 Open Access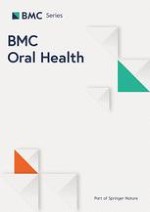 The impact of oral health conditions, socioeconomic status and use of specific substances on quality of life of addicted persons
Zeitschrift:
Autoren:

Tais Cristina Nascimento Marques, Karin Luciana Migliato Sarracini, Karine Laura Cortellazzi, Fábio Luiz Mialhe, Marcelo de Castro Meneghim, Antonio Carlos Pereira, Glaucia Maria Bovi Ambrosano
Wichtige Hinweise
Competing interests
The authors declare that they have no competing interests.
Authors' contributions
TCNM participated in the conception and design of the study, acquisition and interpretation of data and preparation of the manuscript. KLMS contributed to data collection. KLC and GMBA and participated in the data analysis. ACP, FLM, MCM contributed to critical revision of the manuscript. GMBA participated in the conception and design of the study and critical revision of the manuscript. All authors read and approved the final manuscript.
Abstract
Background
The aim of this cross-sectional study was to evaluate the impact of oral health conditions, socioeconomic status and use of specific substances on quality of life of alcohol and drug addicted persons, receiving care at outpatient treatment facilities in Brazil.
Methods
A random sample of 262 participants, mean age 37 years, from Psychosocial Care Centers for Alcohol and Drugs (CAPS AD) located in three cities in the state of São Paulo, Brazil, were clinically examined for caries experience (DMFT index) by a calibrated examiner. They were asked to complete a series of questionnaires, including the Alcohol, Smoking and Substance Involvement Screening Test (ASSIST), socioeconomic characteristics, and the World Health Organization Quality of Life assessment (WHOQOL), which were considered the outcome variables of the study. Associations between oral health status, socioeconomic characteristics, substance involvement with WHOQOL were investigated by means of the chi-square test and multiple logistic regression analysis with a level of significance α < 0.05.
Results
The mean DMF index of the group was 13.0. Subjects with DMFT >14 (OR = 2.25; CI 95% = 1.30-3.89); low-income (OR = 2.41; CI 95% = 1.22-4.77) and users of cocaine/crack (OR = 2.02; CI 95% = 1.15-3.59) were more likely to have poor general quality of life.
Conclusion
This study demonstrated that the general quality of life of addicted persons was associated with caries experience, low income and cocaine/crack use.