01.12.2012 | Original investigation | Ausgabe 1/2012 Open Access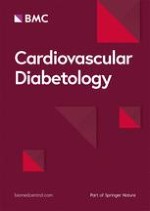 The impact of serum lipids on risk for microangiopathy in patients with type 2 diabetes mellitus
Zeitschrift:
Autoren:

Peter P Toth, Robert J Simko, Swetha Rao Palli, Dawn Koselleck, Ralph A Quimbo, Mark J Cziraky
Wichtige Hinweise
Electronic supplementary material
The online version of this article (doi:
10.​1186/​1475-2840-11-109
) contains supplementary material, which is available to authorized users.
Robert J Simko, Swetha Rao Palli, Dawn Koselleck, Ralph A Quimbo and Mark J Cziraky contributed equally to this work.
Competing interests
Dr. Toth has disclosed that he serves on the Speakers Bureau for Abbott Laboratories, Amylin, AstraZeneca ; GSK, Kowa, and Merck & Co. He is a consultant for Abbott laboratories, Aegerion, Amgen, Amylin, AstraZeneca Pharmaceuticals, Kowa, and Merck. The other authors disclosed that they have no competing interests.
Authors' contributions
PPT led the study, collaborated in its development and design and reviewed the results and manuscript throughout. RJS conceptualized the study, and reviewed and manuscript the results at all stages. DK conceptualized the study, and collaborated with the team on results evaluation and review. RAQ developed the study design and protocol, supervised the statistical analysis and reviewed the results and manuscript throughout. SRP assisted in protocol development, performed statistical analysis, reported and reviewed the results throughout the study and reviewed and edited the manuscript. MJC reviewed the study design and results at various stages of the process. All authors read and approved the final manuscript.
Abstract
Background
Few large-scale, real-world studies have assessed the relative associations of lipid fractions with diabetic microvascular events. The main objective of this study was to evaluate the association of the lipid profile components, high density lipoprotein cholesterol (HDL-C), low density lipoprotein cholesterol (LDL-C), triglycerides (TG), and non-high density lipoprotein cholesterol (non-HDL-C) with microvascular complications (MVCs) in type 2 diabetes mellitus (T2DM) patients.
Methods
This observational cohort study queried the HealthCore Integrated Research Database (HIRDSM) for newly-diagnosed (Index Date) 18-64-year-old patients with diabetes mellitus between 01/01/2005-06/30/2010. Inclusion required ≥12 months pre-index continuous health plan eligibility and ≥1 pre-index lipid profile result. Patients with polycystic ovary syndrome and prior MVCs were excluded. Incident complications were defined as the earliest occurrence of diabetic retinopathy, peripheral neuropathy, and/or nephropathy post-index. Cox proportional models and Kaplan-Meier (KM) curves were used to evaluate associations among variables.
Results
Of the patients (N = 72,267), 50.05 % achieved HDL-C, 64.28 % LDL-C, 59.82 % TG, and 56.79 % non-HDL-C American Diabetes Association goals at baseline. During follow-up (mean, 21.74 months), there were 5.21 microvascular events per 1,000 patient-months. A 1-mg/dL increase in HDL-C was associated with 1 % decrease in any MVC risk (
P
 < .0001), but for LDL-C, TG, and non-HDL-C, 1-mg/dL increase resulted in increases of 0.2 % (
P
 < .0001), 0.1 % (
P
 < 0.001) and 0.3 % (
P
 < 0.001) in MVC risk. Patients achieving HDL-C goals had a 11 % lower risk of MVC versus non-achievers (RR 0.895, [95 % CI, 0.852-0.941],
P
 < .0001). Similarly, TG goal attainment was associated with a lowered risk for any MVC (RR 0.849, [95 % CI, 0.808-0.892],
P
 < .0001). Evaluation of KM survival curves demonstrated no significant difference in the risk of MVCs between patients achieving vs. not achieving LDL-C goals, but did demonstrate a difference in MVC risk between patients achieving vs. not achieving non-HDL-C goals.
Conclusion
This study demonstrates significant independent associations among lipid fractions and risk for microangiopathy. These findings suggest that attaining established ADA goals for HDL-C, TG, and non-HDL-C may reduce risk for microvascular events among patients with diabetes.