28.05.2018 | Original Article | Ausgabe 8/2018 Open Access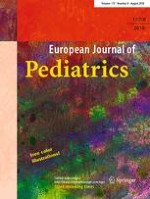 The impact of social inequalities on children's knowledge and representation of health and cancer
Zeitschrift:
Autoren:

Véronique Régnier Denois, Aurelie Bourmaud, Mabrouk Nekaa, Céline Bezzaz, Véronique Bousser, Julie Kalecinski, Julia Dumesnil, Fabien Tinquaut, Dominique Berger, Franck Chauvin
Wichtige Hinweise
Communicated by Mario Bianchetti
Abstract
Reducing inequalities in the field of cancer involves studying the knowledge and mental representations of cancer among children. A qualitative study was conducted on 191 children aged 9 to 12 using the "write and draw" technique to get spontaneous mental representations of "healthy things", "unhealthy things" and "cancer". We grouped the voluntary schools according to two deprivation levels. In response to the request to "write or draw anything you think keeps you healthy", the main responses categories were physical activity, healthy food and basic needs. Smoking, drinking alcohol, sedentary lifestyles/lack of sport were identified as "unhealthy". The first theme associated with "cancer" is the "cancer site" implying children have a segmented perception of cancer. Deprived children have radically different views about the key items representing cancer: they are more likely to believe the illness is systematically deadly. They are less likely to believe it is a treatable illness. They are less likely to associate cancer with risky behaviors, particularly alcohol consumption.
Conclusion
: Social inequalities affect representations of cancer and health literacy from early childhood. Prevention programs taking into account these representations need to be introduced at school.
• Social inequalities for cancer mortality are observed in all European countries and are particularly pronounced in France.
• Reducing these inequalities in prevention programs implies studying the knowledge and mental representations of cancer among children.
• This study identified representations of cancer in young children according to social level.
• At age 9, children living in deprived areas are less able to produce content in discussions about cancer and have narrower mental representations and a more fatalistic view.