14.07.2020 | Original Contributions | Ausgabe 11/2020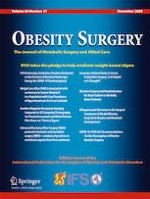 The Impact of the Gastric Twist on Esophagitis Progression After Sleeve Gastrectomy: Mid-Term Endoscopic Findings
Zeitschrift:
Autoren:

Álvaro A. B. Ferraz, José-Tarcísio Dias da Silva, Fernando Santa-Cruz, Maria-Améllia R. Aquino, Luciana T. Siqueira, Flávio Kreimer
Wichtige Hinweise
Publisher's Note
Springer Nature remains neutral with regard to jurisdictional claims in published maps and institutional affiliations.
Abstract
Purpose
To determine the real influence of the gastric twist on the progression of esophagitis after SG, evaluating pre- and late post-operative endoscopic findings.
Material and Methods
We retrospectively included 459 patients submitted to SG between 2009 and 2019. The sample comprised patients who performed esophagogastroduodenoscopy (EGD) at the pre-operative and late post-operative periods.
Results
Patients were mainly female (85.6%), with a mean age of 40.4 years. Mean follow-up time was 20.8 months. In the pre-operative period, 1.1% of patients had non-erosive esophagitis, 24.2% of patients had grade A erosive esophagitis, and 1.5% of patients had grade B. In the post-operative evaluation, 3.3% had non-erosive esophagitis, 14.8% presented grade A erosive esophagitis, 8.9% had grade B, and 1.3% had grade C esophagitis. There were no cases of Barrett's esophagus. Forty-nine patients (10.7%) presented gastric twist. Comparing patients with and without gastric twist, it was possible to observe that the gastric twist group presented a higher incidence of grade C esophagitis (4.0% × 1.0%),
p
= 0.017. The correlation between the occurrence of gastric twist and esophagitis progression showed a prevalence ratio of 1.36 (95% CI 0.82–2.25).
Conclusions
SG is responsible for an increase in the prevalence of erosive esophagitis, and the occurrence of gastric twist definitely plays a role on it, expressing a risk of 36% for esophagitis progression and being related to a higher incidence of severe esophagitis.