01.12.2014 | Research | Ausgabe 1/2014 Open Access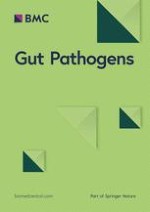 The impact of Toll-like-receptor-9 on intestinal microbiota composition and extra-intestinal sequelae in experimental
Toxoplasma gondii

induced ileitis
Zeitschrift:
Autoren:

Stefan Bereswill, Anja A Kühl, Marie Alutis, André Fischer, Luisa Möhle, Daniela Struck, Oliver Liesenfeld, Ulf B Göbel, Ildikò R Dunay, Markus M Heimesaat
Wichtige Hinweise
Electronic supplementary material
The online version of this article (doi:
10.​1186/​1757-4749-6-19
) contains supplementary material, which is available to authorized users.
Stefan Bereswill, Anja A Kühl, Ildikò R Dunay and Markus M Heimesaat contributed equally to this work.
Competing interests
The authors have declared that no competing interests exist.
Authors' contributions
Conceived and designed the experiments: IRD, MMH. Performed the experiments: AAK, MA, AF, LM, DS, IRD, MMH. Analyzed the data: AAK, AF, LM, DS, OL, IRD, MMH. Contributed reagents/materials/analysis tolls: SB, AAK, OL, UBG. Wrote the paper: SB, AAK, AF, IRD, MMH. All authors read and approved the final manuscript.
Abstract
Background
Following peroral
Toxoplasma (T.) gondii
infection, susceptible mice develop acute ileitis due to a microbiota-dependent Th1 type immunopathology. Toll-like-receptor (TLR)-9 is known to recognize bacterial DNA and mediates intestinal inflammation, but its impact on intestinal microbiota composition and extra-intestinal sequelae following
T. gondii
infection has not yet been elucidated.
Methods and results
Seven days following peroral infection (p.i.) with 100 cysts of
T. gondii
ME49 strain, TLR-9
-/-
and wildtype (WT) mice suffered from comparable ileitis, whereas ileal parasitic loads as well as IFN-γ and nitric oxide levels were higher in TLR-9
-/-
compared to WT mice. Locally, TLR-9
-/-
mice exhibited increased ileal CD3+, but not FOXP3+ cell numbers at day 7 p.i.; in mesenteric lymph nodes IFN-γ-producing CD4+ cell numbers and TNF-α and IFN-γ concentrations were also increased in TLR-9
-/-
compared to WT mice.
T. gondii
DNA levels, however, did not differ in mice of either genotype. Differences in intestinal microbiota were rather subtle except for bifidobacteria that were virtually absent in both, naïve and
T. gondii
infected TLR-9
-/-
, but not WT mice. Extra-intestinally, TLR-9
-/-
mice displayed less distinct systemic immune responses as indicated by lower serum IL-6, and splenic TNF-α and IFN-γ levels as compared to WT mice despite higher translocation rates of intestinal bacteria to extra-intestinal compartments such as liver, spleen, kidney, and cardiac blood. Most importantly, brains were also affected in this inflammatory scenario as early as day 7 p.i. Remarkably, TLR-9
-/-
mice exhibited more pronounced inflammatory infiltrates with higher numbers of F4/80+ macrophages and microglia in the cortex and meninges as compared to WT mice, whereas
T. gondii
DNA levels did not differ.
Conclusion
We here show that TLR-9 is not required for the development of
T. gondii
induced ileitis but mediates distinct inflammatory changes in intestinal and extra-intestinal compartments including the brain.