01.12.2014 | Gamete Biology | Ausgabe 12/2014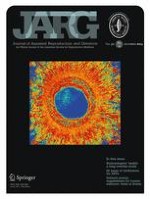 The impact of vitrification on murine germinal vesicle oocyte In vitro maturation and aurora kinase A protein expression
Zeitschrift:
Autoren:

Joseph O. Doyle, Ho Joon Lee, Kaisa Selesniemi, Aaron K. Styer, Bo R. Rueda
Wichtige Hinweise
Capsule
Assessment of the impact of vitrification on murine GV oocyte in vitro maturation and aurora kinase A protein expression
Abstract
Purpose
Investigate the effect of vitrification on in vitro maturation (IVM) and expression of Aurora kinases A, B, and C in germinal vesicle (GV)-stage oocytes.
Methods
GV-stage oocytes from B6D2F1 female mice 7–11 weeks of age were vitrified after collection, thawed, and matured in vitro for 0, 4, 8, and 12 h (hrs). The rate of germinal vesicle breakdown (GVBD), spindle apparatus assembly, and Aurora kinase mRNA and protein expression during IVM was measured.
Results
Oocyte vitrification was associated with significant delays in both GVBD and normal spindle apparatus assembly at 4 and 8 h of IVM (
p
 < 0.05). There was no difference in mRNA levels between control and vitrified oocytes for any of the Aurora kinases. Aurora A protein levels were reduced in vitrified compared to control oocytes at 0 h (
p
 = 0.008), and there was no difference at 4 and 8 h (
p
 = 0.08 and 0.69, respectively) of IVM.
Conclusions
Vitrified oocytes have delayed GVBD and normal spindle assembly during in vitro maturation. Reduced levels of Aurora A protein immediately post-thaw may be associated with the impaired oocyte maturation manifested by the delayed progression through meiosis I and II, and the atypical timing of the formation of meiotic spindles in vitrified GV-stage oocytes.