01.03.2018 | Original Article | Ausgabe 4/2018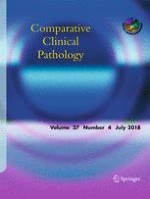 The impacts of yoghurt butter oil on rat testicular morphology and sexual hormones in a 150-day study
Zeitschrift:
Autoren:

Mohammadmehdi Hassanzadeh-Taheri, Farnaz Jahani, Mahsa Hassanzadeh-Taheri, Mohammadreza Doostabadi, Hamidreza Doostabadi, Mehran Hosseini
Abstract
The oil derived from traditional produced yoghurt has received much attention over the last two decades. While a high-fat diet (HFD) is assumed to be related to reproductive impairments, fermented dairy products are believed to have positive effects on the regulation of HFD-induced male reproductive damage. The reproductive effects of sheep's yoghurt butter oil (SYBO) have never been studied yet. The current study was to seek for the scientific evidence to determine SYBO effects on male rat reproductive system. In the present study, male Wistar rats were treated by standard diet or standard diet supplemented with 10% (
w
/
w
) or 20% of SYBO for 150 days. Treatment of animals with SYBO (at the both concentrations) did not cause significant alterations in the body weight, testicular morphology and its weight, circulatory concentrations of testosterone, and follicle-stimulating hormone (FSH). However, plasma levels of estradiol and luteinizing hormone (LH) significantly declined (
p
 < 0.05) in 10–20% SYBO-treated rats. The evidence from this study supports that high-fat diet made by sheep's yoghurt butter oil had not devastating effects on rat reproductive system even though in long-term period.