01.12.2017 | Research | Ausgabe 1/2017 Open Access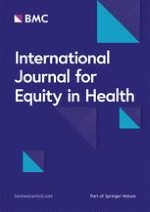 The imperative for systems thinking to promote access to medicines, efficient delivery, and cost-effectiveness when implementing health financing reforms: a qualitative study
Zeitschrift:
Autoren:

Tom Achoki, Abaleng Lesego
Abstract
Background
Health systems across Africa are faced with a multitude of competing priorities amidst pressing resource constraints. Expansion of health insurance coverage offers promise in the quest for sustainable healthcare financing for many of the health systems in the region. However, the broader policy implications of expanding health insurance coverage have not been fully investigated and contextualized to many African health systems.
Methods
We interviewed 37 key informants drawn from public, private and civil society organizations involved in health service delivery in Botswana. The objective was to determine the potential health system impacts that would result from expanding the health insurance scheme covering public sector employees. Study participants were selected through purposeful sampling, stakeholder mapping, and snowballing. We thematically synthesized their views, focusing on the key health system areas of access to medicines, efficiency and cost-effectiveness, as intermediate milestones towards universal health coverage.
Results
Participants suggested that expansion of health insurance would be characterized by increased financial resources for health and catalyze an upsurge in utilization of health services particularly among those with health insurance cover. As a result, the health system, particularly within the private sector, would be expected to see higher demand for medicines and other health technologies. However, majority of the respondents cautioned that, realizing the full benefits of improved population health, equitable distribution and financial risk protection, would be wholly dependent on having sound policies, regulations and functional accountability systems in place. It was recommended that, health system stewards should embrace efficient and cost-effective delivery, in order to make progress towards universal health coverage.
Conclusion
Despite the prospects of increasing financial resources available for health service delivery, expansion of health insurance also comes with many challenges. Decision-makers keen to achieve universal health coverage, must view health financing reform through the holistic lens of the health system and its interactions with the population, in order to anticipate its potential benefits and risks. Failure to embrace this comprehensive approach, would potentially lead to counterproductive results.