23.10.2018 | Original Article - Infection | Ausgabe 12/2018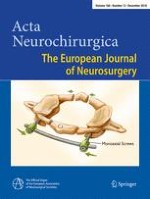 The implementation of an infection prevention bundle reduces surgical site infections following cranial surgery
Zeitschrift:
Autoren:

Ann-Kathrin Jörger, Nikolaus Wimmer, Nicole Lange, Arthur Wagner, Insa Janssen, Sandro Krieg, Bernhard Meyer, Ehab Shiban
Wichtige Hinweise
This article is part of the Topical Collection on
Infection
Presentation at: EANS Congress Venice 2017
Comments
The authors demonstrate that the introduction of several modifications in perioperative routines (an "infection prevention bundle") reduces surgical site infections.
They compared their infection rate in approximately 300 elective first time craniotomy patients prior to instituting the bundle to the rate following the bundle introduction. The percentage of infections was halved, though the difference was statistically of significance due to the small number of infections in the two study populations.
The authors correctly point out that merely being part of a study group can result in a lower infection rate as the surgical staff is more conscious of its actions. Actually, proving that a specific action such as gluing the incision instead of stapling it is advantageous may be beyond reach considering the myriad of variables affecting surgical site infections.
I suspect that the main impact of a new infection prevention protocol is due to the attention and care that the staff brings to the cases in order to comply with its requirements. As these measures become routine, their positive effect may wear off, returning the infection rate to what it was before the introduction of the new measures. Constant vigilance, perhaps under the watchful eye of independent protocol supervisors, may be more important than the specific choices of any infection prevention bundle.
Jörger and co-workers address a highly relevant topic: The prevention of surgical site infections following cranial neurosurgery. They have seen and adequately discussed the limitations of the study—especially the fact that this is no randomized controlled study, but a retrospectively performed comparison of two temporally diverse groups. However, they reached a reduction of surgical site infections to 50%. Even though this was not statistically significant, it is clinically relevant. Further studies about this topic are recommended.
Abstract
Background
The benefit of an infection prevention bundle made up of five basic procedures to avoid surgical site infections (SSIs) following cranial surgery was evaluated.
Methods
Data from all patients with first time elective brain surgery from March 2014 till May 2016 were analyzed. In April 2015, an infection prevention bundle was implemented. The rate of SSIs after first time elective cranial surgery of patients operated 1 year before and 1 year after the implementation was compared.
Results
Of the 321 cases operated before the implementation of the infection prevention bundle, 13 cases (4%) developed a SSI. After the implementation, only 6 patients out of 288 were re-operated due to a SSI (2%). The most frequent etiological germ cultivated was
Staphylococcus aureus
.
Conclusion
The implementation of a bundle of 5 basic infection prevention steps leads to a clinical relevant reduction of SSIs.