01.12.2018 | Research article | Ausgabe 1/2018 Open Access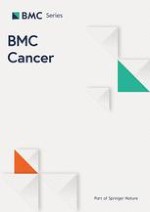 The incidence of acute oxaliplatin-induced neuropathy and its impact on treatment in the first cycle: a systematic review
Zeitschrift:
Autoren:

Endale Gebreegziabher Gebremedhn, Peter John Shortland, David Anthony Mahns
Abstract
Background
Although acute oxaliplatin-induced neuropathy (OXIPN) is frequently regarded to be transient, recent studies have reported prolongation of infusion times, dose reduction and treatment cessation following the first dose of oxaliplatin in quarter of patients. Acute OXIPN is also a well-established risk factor for chronic neuropathy. However, there is underreporting of these parameters during the acute phase (≤ 14 days). This paper systematically reviews the incidence of acute OXIPN and its impact on treatment in the first cycle.
Methods
A systematic literature search was performed using PubMed and Medline. Published original articles were included if they described details about prevalence of oxaliplatin-induced acute neuropathy.
Results
Fourteen studies, comprised of 6211 patients were evaluated. The majority of patients were treated with oxaliplatin in combination with leucovorin and fluorouracil (FOLFOX). Most studies used the National Cancer Institute Common Toxicity Criteria to assess acute neuropathy. Acute neuropathy (Grades 1–4) was the most common event with prevalence ranging from 4–98%, followed by haematological (1.4–81%) and gastrointestinal (1.2–67%) toxicities, respectively. Drug regimens, starting dose of oxaliplatin and neuropathy assessment tools varied across studies. In addition, moderate to severe toxicities were common in patients that received a large dose of oxaliplatin (> 85 mg/m2) and/ or combined drugs. The majority of studies did not report the factors affecting acute neuropathy namely the range (minimal) doses required to evoke acute neuropathy, patient and clinical risk factors. In addition, there was no systematic reporting of the number of patients subjected to prolonged infusion, dose reduction, treatment delay and treatment cessation during the acute phase.
Conclusion
Despite the heterogeneity of studies regarding oxaliplatin starting dose, drug regimen, neuropathy assessment tools and study design, a large number of patients developed acute neuropathy. To develop a better preventive and therapeutic guideline for acute/chronic neuropathy, a prospective study should be conducted in a large cohort of patients in relation to drug regimen, starting/ranges (minimal) of doses producing acute neuropathy, treatment compliance, patient and clinical risk factors using a standardised neuropathy assessment tool.