01.12.2018 | Research Article | Ausgabe 1/2018 Open Access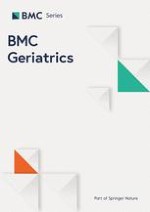 The increasing burden and complexity of multi-morbidity and polypharmacy in geriatric HIV patients: a cross sectional study of people aged 65 – 74 years and more than 75 years
Zeitschrift:
Autoren:

G. Guaraldi, A. Malagoli, A. Calcagno, C. Mussi, B. M. Celesia, F. Carli, S. Piconi, G. V. De Socio, A. M. Cattelan, G. Orofino, A. Riva, E. Focà, S. Nozza, G. Di Perri
Abstract
Background
Geriatric Patients Living with HIV/AIDS (GEPPO) is a new prospective observational multicentre cohort consisting of all the HIV-positive geriatric patients being treated at 10 clinics in Italy, and HIV-negative controls attending a single geriatric clinic.
The aim of this analysis of the GEPPO cohort was to compare prevalence and risk factors of individual non-communicable diseases (NCD), multi-morbidity (MM) and polypharmacy (PP) amongst HIV positive and HIV negative controls at enrolment into the GEPPO cohort.
Methods
This cross-sectional study was conducted between June 2015 and May 2016. The duration of HIV infection was subdivided into three intervals: < 10, 10–20 and > 20 years. The NCD diagnoses were based on guidelines defined criteria, including cardiovascular disease, hypertension, type 2 diabetes, chronic kidney disease, dyslipidaemia, chronic obstructive pulmonary disease. MM was classified as the presence of two or more co-morbidities. The medications prescribed for the treatment of comorbidities were collected in both HIV positive and HIV negative group from patient files and were categorized using the Anatomical Therapeutic Chemical (ATC) classification. PP was defined as the presence of five or more drug components other than anti-retroviral agents.
Results
The study involved a total of 1573 patient: 1258 HIV positive and 315 HIV negative). The prevalence of individual comorbidities was similar in the two groups with the exception of dyslipidaemia, which was more frequent in the HIV-positive patients (
p
 <  0.01). When the HIV-positive group was stratified based on the duration of HIV infection, most of the co-morbidities were significantly more frequent than in control patients, except for hypertension and cardiovascular disease, while COPD was more prevalent in the control group. MM and PP were both more prevalent in the HIV-positive group, respectively 64% and 37%.
Conclusions
MM and PP burden in geriatric HIV positive patients are related to longer duration of HIV-infection rather than older age per se.