27.09.2016 | Original Article | Ausgabe 2/2018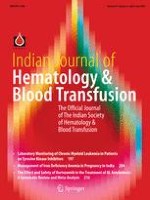 The Influence of CYP2C9 and VKORC1 Gene Polymorphisms on the Response to Warfarin in Egyptians
Zeitschrift:
Autoren:

Ahmed M. L. Bedewy, Salah Showeta, Mostafa Hasan Mostafa, Lamia Saeed Kandil
Abstract
Warfarin is the most commonly used drug for chronic prevention of thromboembolic events, it also ranks high among drugs that cause serious adverse events. The variability in dose requirements has been attributed to inter-individual differences in medical, personal, and genetic factor. Cytochrome P-450 2C9 is the principle enzyme that terminates the anticoagulant effect of warfarin by catalyzing the conversion of the pharmacologically more potent S-enantiomer to its inactive metabolites. Warfarin exerts its effect by inhibition of vitamin K epoxide reductase. This protein is encoded by vitamin K epoxide reductase complex subunit 1 gene (VKORC1). The current study aimed to investigate the pharmacogenetic effect of CYP2C9 and VKORC1 gene polymorphisms on the patients response to warfarin. One hundred cases starting warfarin treatment and 20 healthy controls were enrolled. The mean daily dose of warfarin was calculated from patient's medical records. For each patient, less than 10 % variability in warfarin dose and a target international normalized ratio (INR) within the therapeutic target range were required for at least 3 months for one of the following indications (deep vein thrombosis, pulmonary embolism, cerebrovascular stroke and myocardial infarction) prior to inclusion in the study. Tetraprimer amplification refractory mutation system PCR was performed to determine CYP2C9*2, CYP2C9*3, and the VKORC1 1639 G > A genetic polymorphisms. Plasma warfarin determination was performed using rapid fluorometric assay. Plasma warfarin concentration ranged from 2.19 to 10.98 μg/ml with a median 3.52 μg/ml. Supratherpeutic INR was observed in 11 % of the cases. Thromboembolic complications occurred in 7 % of the cases and 8 % of cases experienced major bleeding. High maintenance dose (>7 mg/day) was associated with the combined non VKORC1*2 and homozygous wild type CYP2C9 (CYP2C9*1*1) alleles, while low maintenance dose was associated with the Variant (AG + AA)/Wild (*1/*1). (
p
value <0.001). CYP2C9 variant was a risk factor for supratherapeutic INR in the multivariate logistic regression model. Thromboembolic complication and incidence of supratherapeutic INR were observed in patients carrying combined VKORC1 Variant (AG + AA) and CYP2C9 Variant (*2/*3). Data from our study suggest that together with clinical factors, VKORC1 and CYP2C9 polymorphisms are important contributors to warfarin dosing and may help predict adverse effects in Egyptian patients.