01.12.2018 | Research article | Ausgabe 1/2018 Open Access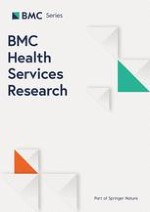 The influence of environmental conditions on safety management in hospitals: a qualitative study
Zeitschrift:
Autoren:

Carien W. Alingh, Jeroen D. H. van Wijngaarden, Robbert Huijsman, Jaap Paauwe
Abstract
Background
Hospitals are confronted with increasing safety demands from a diverse set of stakeholders, including governmental organisations, professional associations, health insurance companies, patient associations and the media. However, little is known about the effects of these institutional and competitive pressures on hospital safety management. Previous research has shown that organisations generally shape their safety management approach along the lines of control- or commitment-based management. Using a heuristic framework, based on the contextually-based human resource theory, we analysed how environmental pressures affect the safety management approach used by hospitals.
Methods
A qualitative study was conducted into hospital care in the Netherlands. Five hospitals were selected for participation, based on organisational characteristics as well as variation in their reputation for patient safety. We interviewed hospital managers and staff with a central role in safety management. A total of 43 semi-structured interviews were conducted with 48 respondents. The heuristic framework was used as an initial model for analysing the data, though new codes emerged from the data as well.
Results
In order to ensure safe care delivery, institutional and competitive stakeholders often impose detailed safety requirements, strong forces for compliance and growing demands for accountability. As a consequence, hospitals experience a decrease in the room to manoeuvre. Hence, organisations increasingly choose a control-based management approach to make sure that safety demands are met. In contrast, in case of more abstract safety demands and an organisational culture which favours patient safety, hospitals generally experience more leeway. This often results in a stronger focus on commitment-based management.
Conclusions
Institutional and competitive conditions as well as strategic choices that hospitals make have resulted in various combinations of control- and commitment-based safety management. A balanced approach is required. A strong focus on control-based management generates extrinsic motivation in employees but may, at the same time, undermine or even diminish intrinsic motivation to work on patient safety. Emphasising commitment-based management may, in contrast, strengthen intrinsic motivation but increases the risk of priorities being set elsewhere. Currently, external pressures frequently lead to the adoption of control-based management. A balanced approach requires a shift towards more trust-based safety demands.