12.08.2016 | Original Paper | Ausgabe 2/2017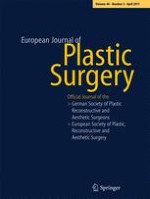 The influence of plastic surgeon age and gender on decision-making in breast reconstruction: a national survey of American plastic surgeons
Zeitschrift:
Autoren:

Shruti C. Tannan, Shawna R. Kleban, Wendy M. Novicoff, Chris A. Campbell
Abstract
There are numerous options for breast reconstruction after mastectomy, and the final reconstructive option is often influenced by patient preference. This study surveyed plastic surgeons regarding their personal preferences for breast reconstruction after mastectomy to identify the impact of gender and age on reconstructive preference. An anonymous online survey was distributed to plastic surgeons in the American Society of Plastic Surgeons member directory and current plastic surgery residents. Female surgeons were asked to select reconstructive options for themselves as patients, while male surgeons were asked to answer the same questions as if advising a loved one. After unilateral mastectomy, 60.2 % of respondents preferred implant-based reconstruction, increasing to 67.8 % after bilateral mastectomy. Top reasons for selecting implant-based reconstruction were recovery time (78.0 %) and hospital length of stay (54.5 %). In contrast, respondents who preferred abdominal flap-based autologous reconstruction cited the longevity (83.3 %) and the aesthetic appearance of the final result (82.7 %) as top reasons. Female surgeons were significantly more likely to choose implant-based reconstruction than male surgeons (68.7 vs. 56.6 %,
p
= 0.001). Younger male surgeons preferred autologous reconstruction (58.8 %). Plastic surgeons' reconstructive choices parallel current patient-based surveys favoring breast reconstruction with implants. Respondents' reasons for selecting one reconstructive method over another are consistent with prior patient-based surveys. Female plastic surgeons prefer implant-based reconstruction to a greater extent than male plastic surgeons. This survey identifies the need for further prospective study of physician perspectives of patient experiences.
Level of Evidence: Not ratable.