01.10.2015 | Breast Oncology | Ausgabe 10/2015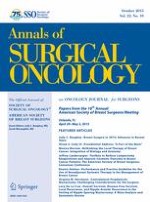 The Influence of Radiology Image Consultation in the Surgical Management of Breast Cancer Patients
Zeitschrift:
Autoren:

MD Melissa Anne Mallory, MPH Katya Losk, MD Nancy U. Lin, MD Yasuaki Sagara, MD Robyn L. Birdwell, Linda Cutone, MPH Kristen Camuso, MD, MPH, MBA Craig Bunnell, MD Fatih Aydogan, MD, FACS Mehra Golshan
Abstract
Background
Patients referred to comprehensive cancer centers arrive with clinical data requiring review. Radiology consultation for second opinions often generates additional imaging requests; however, the impact of this service on breast cancer management remains unclear. We sought to identify the incidence of additional imaging requests and the effect additional imaging has on patients' ultimate surgical management.
Methods
Between November 2013 and March 2014, 153 consecutive patients with breast cancer received second opinion imaging reviews and definitive surgery at our cancer center. We identified the number of additional imaging requests, the number of fulfilled requests, the modality of additional imaging completed, the number of biopsies performed, and the number of patients whose management was altered due to additional imaging results.
Results
Of 153 patients, the mean age was 55 years; 98.9 % were female; 23.5 % (36) had in situ carcinoma (35 DCIS/1 LCIS), and 76.5 % (117) had invasive carcinoma. Additional imaging was suggested for 47.7 % (73/153) of patients. After multidisciplinary consultation, 65.8 % (48/73) of patients underwent additional imaging. Imaging review resulted in biopsy in 43.7 % (21/48) of patients and ultimately altered preliminary treatment plans in 37.5 % (18/48) of patients (Fig.
1
). Changes in management included: conversion to mastectomy or breast conservation, neoadjuvant therapy, additional wire placement, and need for contralateral breast surgery.
×
Conclusions
Our analysis of second opinion imaging consultation demonstrates the significant value that this service has on breast cancer management. Overall, 11.7 % (18/153) of patients who underwent breast surgery had management changes as a consequence of radiologic imaging review.