01.12.2018 | Research | Ausgabe 1/2018 Open Access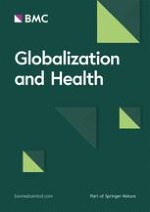 The institutional context of tobacco production in Zambia
Zeitschrift:
Autoren:

Ronald Labonté, Raphael Lencucha, Jeffrey Drope, Corinne Packer, Fastone M. Goma, Richard Zulu
Abbreviations
COMESA
Common market for eastern and Southern Africa
FCTC
Framework convention of tobacco control
IAD
Institutional analysis and development (Framework)
MDG
Millennium development goal
SADC
Southern African development community
Background
Methods
We conducted semi-structured interviews with key stakeholders (see Table
1
) from all the key ministries (Health, Foreign Affairs, Trade and Industry, Agriculture, Finance) (
n
= 26). Governance of matters of public import such as tobacco is not limited to government actors, but must include civil society organisations and commercial actors [
28
]. As such, we also interviewed representatives from diverse inter-governmental organisations, spokespersons from civil society organisations with an interest in tobacco control, and officials from tobacco interests. Individuals were included based on the criterion that they were involved in tobacco at the policy level. This meant that we targeted informants who had worked on developing and implementing tobacco control policy (i.e. tobacco was part of the individual's portfolio), were involved in governing tobacco production, export and development of a tobacco supply chain, or who intervened as civil society advocates around tobacco-related policy issues (see Table
1
). We used purposive sampling [
29
], supplemented by snowball sampling [
30
]. In most cases, two investigators were present at each interview, one from the Zambian research team and the other an international investigator. All interviews took place in the workplace of the informants, or in a location of their choosing, and lasted between 30 and 120 min. All but one interview was recorded and transcribed verbatim. The one interview not recorded was summarized in note form by the investigators, who compared notes post-interview to ensure accurate recall. Interviews took place between April and December, 2014. Ethics approval for this study was obtained from the ethics review boards of the University of Ottawa, McGill University, Morehouse School of Medicine (American Cancer Society) and the University of Zambia. Transcripts were entered into NVivo qualitative software and analyzed using thematic coding. A second stage analysis was undertaken specific to the institutional context of informants, coding for rules (mandates), norms (rationales), and action strategies (practices). Two of the international researchers worked closely with the two Zambian researchers to verify the analysis.
| Sector/Institution | Number Interviewed | Identifier (Quotes) |
| --- | --- | --- |
| Agriculture | 2 | AGRI |
| Commerce, Trade & Industry | 3 | IND |
| Foreign Affairs | 2 | FOR |
| Trade | 2 | TRADE |
| Health | 2 | MOH |
| WHO | 1 | WHO |
| COMESA | 1 | COM |
| Tobacco Board of Zambia | 1 | TBZ |
| Tobacco Association of Zambia | 1 | TAZ |
| Zambia Agriculture Research Institute | 3 | ZARI |
| Multi-Facility Economic Zone | 1 | MFAZ |
| Zambia Development Agency | 1 | ZDA |
| Tobacco Companies | 3 | TOB |
| Health NGOs | 3 | NGO |
Results
There are three categories of results where the clash of mandates, norms and practices emerge most strongly: tobacco production and the Zambian economy, tobacco control and Zambians' health, and the prospects for alternative crops to tobacco. Unless otherwise cited, statements of 'fact' by our interviewees reflect their perceptions; only in some instances did we utilize other sources to comment on these perceptions.
Tobacco production and the Zambian economy
Tobacco control and Zambian health
Although our informants spoke most extensively on tobacco's economic importance, the issue of tobacco control and health received considerable attention. The Ministry of Health was identified by several informants as the "lead Ministry" for tobacco control. "Strengthening enforcement of legislation on tobacco use" is identified as a key intervention for the Ministry [
38
] (p.20), albeit one that has yet to be implemented; while tobacco use is seen rather singularly as a "lifestyle" factor [
38
] (p.18). There is no reference to the FCTC, or to tobacco farming or production, in the Ministry's 2011–2015 strategic plan, although the ministry is scheduled to introduce a new plan sometime in 2017. One of our health informants did state that the Ministry's policy directorate was requested to develop "legislation following [Zambia's ratification of the] WHO FCTC". Our informant with the WHO country office also noted that it is the Health Ministry's responsibility to implement "procedures and [advance] the process of accelerating the enactment of the [FCTC] law" (WHO). The WHO Country Office in Zambia, in turn, is mandated to perform an advisory function, "providing financial and technical support to government, to assist government to domesticate the FCTC, so they can implement the supply and demand reduction measures which are in the [Convention] by specifically ensuring that they come up with a domestic law which captures the major supply and demand measures which they are obliged to implement" (WHO). This advisory role includes low-key advocacy efforts, such as writing to ministers or convening regional meetings to prod "those countries that have yet to implement these laws" (WHO).
Our Health Ministry informants also spoke of friction among the different Ministries and their competing mandates. The Ministry had attempted to involve the Ministry of Finance in a commitment to increase taxes related to tobacco products (one of the reduction strategies advanced by the FCTC), but Finance did not engage. Further attempts were made to develop inter-ministerial collaboration among the Commerce and Agriculture Ministries, Zambia's Bureau of Standards, and the Zambia Revenue Authority (MOH), but continually faced challenges because the mandates and priorities of these other institutions conflicted with those of Health. Our informants further described how the Ministry had received comments on the Australia Plain Packaging Proposal from Foreign Affairs, which argued that provisions in the proposal may contradict other laws in Zambia (e.g. the Zambia Competition and Consumer Protection Act). This Act states that the laws put in place in Zambia should not interfere with the running of businesses. If the plain packaging law were to pass, it would mean consumers would be disadvantaged as they wanted to know the brand available. Foreign Affairs further advanced that the World Trade Organization (WTO) would not allow Health to enact laws that interfered with trade (MOH), a statement which is not actually true except under certain conditions.
These mandate and normative conflicts with tobacco control goals, however, were most pronounced with Commerce and Agriculture:
Our line Ministry, we have had challenges with Commerce, and their concern is that we are getting money out of tobacco and it's assisting the government…so [while] we are worried about the health of the people, our friends the agronomists [in Agriculture] are worried about the crop and the industry [Commerce] is worried about business. It's a triangle (laughs) (MOH).
The norm from within the Ministry was that health staff were unavoidably trapped within this triangle, since "the problem is because we know that just as much as we want our people to be healthy, we also need money to procure drugs, and where is this money coming from?" (MOH) the answer to the rhetorical question being from government revenues relying, in part, on tobacco. Health NGOs in distinct contrast were more dismissive of this concern, stating bluntly that "the government is spending more on treatment [for tobacco diseases] than the revenue they are getting from…tobacco" (NGO).
To treat a cancer patient it takes a lot of money, it's expensive. So whatever revenue the Zambian government is getting…from the tobacco sales and the tobacco industry, it goes to Ministry of Health to treat the cancer patients (NGO).
Another informant from the Health Ministry seemed to accept this broad brush assessment, noting that "we have these [employment and revenue] challenges but we should also look at the negative impact [tobacco] has on the human health and…always say that even if that money is made, it still ends up in procuring medicines for people [suffering tobacco diseases] or rehabilitating them or whatever" (MOH). These statements invert the dominant pro-tobacco norm (that it creates a positive economic externality) by contending that it actually risks being an economic drain, an argument given broad support by the World Bank report "Curbing the Epidemic" in 1999 [
41
]. While such an assertion is reasonable given the mandate of the Health Ministry (and other health NGOs) to improve and protect health, it rests on demonstrating that smoking rates and tobacco-related diseases are sufficiently prevalent in Zambia that they offset tobacco's economic benefits.
10
These pro-tobacco economic arguments were ubiquitous, reflected long-standing arguments advanced by tobacco transnational companies, and led many informants to rationalize the continued or expanded production of a good that many openly acknowledged was known to cause health problems. Several informants reconciled this normative dissonance by claiming that "It's not the Zambian who consumes the tobacco" (AGRI), citing the fact that most of Zambia's tobacco is exported, primarily to China. A tobacco company informant similarly stated that, because "Zambians don't smoke" the government shouldn't try to convince to stop growing tobacco by arguing that "we lose money to health costs due to consumption" (TOB). One informant further linked his assumption of low smoking rates of Zambians with the country's ambivalence towards the FCTC and new tobacco control measures:
I think in Zambia we don't have a very big tobacco problem in terms of the number of people that smoke... if Zambians are not heavily smoking they are not really interested in the purpose and implementation of the FCTC (FOR).
While most informants indicated domestic consumption of cigarettes to be low, statistics show otherwise, with 24% of Zambian males reported to smoke in 2013 (WHO, 2016).
An informant involved in the trade side of the Foreign Affairs emphasized the importance of striking "a balance between the fiscal issues [the foreign exchange tobacco trade generates] as well as the health issues" (FOR). Even when recognizing that "tobacco is harmful," there is a need to "balance that [with] the need to get to a certain level of economic development" (COMESA); that "much as the [FCTC] proposal…with health issues might make sense, we also need to ensure that we do not disadvantage the farmers who are involved in production of tobacco" (TRADE). Other informants were more explicit:
[The FCTC] was a threat to tobacco producing countries…and that regulation might affect tobacco-producing countries in terms of revenue…All member states were in agreement…that we should…not entertain this kind of regulation, which threatens the economies of SADC [Southern African Development Community] and tobacco production (FOR).
The strategy of creating country coalitions in support of rural tobacco livelihoods and against tobacco control measures, which derives more from norms than from institutional mandates, has been reported on in other findings from our research study [
20
,
42
]. Our COMESA informant similarly noted how, a year before we began our study, British American Tobacco lobbied COMESA member countries to issue a joint position opposing the FCTC because it risked "reducing consumption of tobacco" negatively impacting the demand for tobacco leaf (COM). Tobacco company arguments were always on tobacco's "contribution to GDP…that is the foundation" (COM). In a more normative vein, our informant thought that Zambia needed first to grow its economy before tackling tobacco's health issues, "because it seems the more prosperous countries are [the ones] dealing with tobacco" (COM). This appeared to be shared by one of our Foreign Affairs informants who argued that, for the moment at least, "engaging in treatment [to reduce] tobacco use" may have to be considered "a luxury" (FOR). For both informants, GDP growth appears to be more important than either supply side measures, or even domestic tobacco use reduction.
Others were less concerned with rationalizing the health/tobacco nexus, and simply retreated to their institutional mandate. When two of our informants from Commerce were asked about the direct contradiction in their tobacco promotion goals with those of the Ministry of Health, they simply restated that their role was "to promote industrial development" (including tobacco manufacturing), and that any health concerns related to tobacco were the responsibility of the Health Ministry. They also invoked the 'personal choice' norm, that smoking was a strictly private affair outside of the realm of the state (IND), an argument made by several other informants who talked about education rather than regulation to curb Zambian smoking rates. In response to a question about the FCTC's suite of advertising and sponsorship bans, warning labels and taxation measures, our Tobacco Association informant countered, "Let me again mention that [these] are punitive measures [whereas] I believe in education, through talking to people, not glorifying [smoking]" (TAZ). He also raised the 'smoker's rights' argument advanced by tobacco transnationals, stating that "if you are driving and you want to light a cigarette, then light it. It is my choice to get out if I want to [to avoid you smoke]" (TAZ).
It was the 'balance' norm, however, that predominated amongst informants in sectors engaged in the tobacco industry or its promotion. The strength of this same norm was further evident in how it was also invoked by those with only peripheral engagement with tobacco production, or charged with implementing tobacco control measures. One of our health informants, for example, accepted completely the tobacco employment and revenue argument:
We have the employment offered by the industry. We have the revenue from the industry and [we] cannot just…throw it away, because the government gets revenue from the same tobacco (MOH).
While health informants were well versed in the economic arguments for tobacco, tobacco informants were less well versed in the health concerns. Despite a health informant stating that, because the FCTC was signed by Zambia's President, "all of us as members of the government are supposed to listen to it" (MOH), several informants from other Ministries claimed they had never heard of the Convention, or were unaware of its requirements, which include proscriptions on governments' support for or encouragement of tobacco production.
11
One of our Foreign Affairs informants was under the mistaken impression that Zambia was still negotiating ratification of the FCTC when in fact the country had ratified the Convention 5 years earlier, and that it was Foreign Affairs that led the FCTC negotiations. He also didn't perceive any conflicts between the FCTC and the mandates of other Ministries, arguing that if they were the lead (or 'line') Ministry (in the case of the FCTC, Health) would convene meetings with other affected Ministries (including his own) to iron them out:
But when an issue has little controversy in terms of the running … it's easy to let the line ministry run with it. In my understanding we are not having [controversial issues] at the moment. So I assume the implementation of the Convention is going smoothly (FOR).
Others were dismissive of the Convention, regarding it as the sole prerogative of the Health Ministry, as one informant from Agriculture expressed:
They [health] must have signed those [FCTC] protocols on behalf of maybe the country (laughs)…In the meantime we are the people who are actually involved in the production and… you guys, you sign for this, you don't even consult us (AGRI).
One of our tobacco informants was blunter, stating that the leaf transnational for which he worked:
…is not opposed to the FCTC…but to the way tobacco is looked at. There is nothing good in it [the FCTC] about [tobacco] but there is good things about tobacco when you look at it on the economic side. [We] think the FCTC is too extreme (TOB).
Alternatives to tobacco production
One of the supply-side tobacco control strategies advanced in the FCTC, and another theme probed in our study, is to promote alternative livelihoods for tobacco farmers. An Agriculture informant noted that crop diversification "is part of our mandate, yes, we are now talking about diversification…we have a fully-fledged department, which is there just to assist smallholder farmers" (AGRI). The diversification effort, however, is not specific to tobacco but is part of a broader Ministry mandate to "increase the value and growth rate of crop exports" with an emphasis on "domestic and international markets" regardless of crop [
43
] (p.6). Tobacco is a concern only insofar as there is worry that global and domestic consumption might start to decline "due to health issues" [
43
] (p.17). The Zambia Development Agency also takes a generic approach to diversification, "not saying that farmers who are growing tobacco [should] grow other products, what we are doing is looking at other products that we encourage [all] farmers to grow" (ZDA).
Working on tobacco alternatives forms part of the Health Ministry's work, but there is the pervasive "challenge in that we have to convince the industry and the government that whatever we do [we] will have to find a system that is going to replace what we have now as a source of revenue" (MOH).
The farmers are saying, if you find a crop that is as marketable or ready as an alternative crop that will…give them income they will definitely shift. So the challenge we have is to find the crop that is as marketable, or even more marketable, than tobacco (MOH).
This challenge is inherently (or should be) "whole-of-government," as the WHO informant acknowledged: "These are important economic policies where you need multi-sectorial approaches because the Ministry of Health alone cannot manage to support these farmers, help them to go into alternative crops" (WHO), a key Ministry partner in this being Agriculture. However, to the contrary, there is a more prominent institutional initiative in place to foster processing and manufacturing of agricultural crops through investment incentives. This initiative treats tobacco as any other crop and our findings have pointed out that this has generated interest in tobacco processing and manufacturing, with the potential to lead to greater demand for tobacco growing within the country [
20
].
Our Agriculture informant acknowledged that the government "should now be seen to discourage tobacco growing and maybe assist farmers growing tobacco to diversify to crops which are not as harmful" but added that "the alternatives are not forthcoming" (AGRI). As other Agricultural informants expressed, "the [tobacco] sector feels they need to be given a bit more time to come up with an exit strategy" (AGRI). These perceptions reflect another tobacco norm that, as our informant with the Tobacco Alliance, expressed: "Tobacco will pay for the development, and then that eventually gives the farmer the ability to decide to diversify into other crops" (TAZ). While all informants emphasized the importance of working with tobacco farmers themselves around the identification of crop alternatives, those representing the industry were more emphatic that "where there are issues of finding alternative crops for tobacco…this is supposed to be voluntary, the farmers themselves they will see that this crop is better than tobacco. It's not something that you can force the farmers to do" (TBZ).
The government-funded Zambia Agriculture Research Institute, perhaps reflecting its mandate to identify alternative crops to tobacco, gives a somewhat optimistic spin to that possibility: "Crops like soya beans, if properly managed and grown, could compete favourably with tobacco" (ZARI). Although hedging this claim somewhat, "I can't say with confidence that's the case, I think those are some of the studies we need to carry out to be certain" the ZARI informant nonetheless noted that "soya beans is a very good alternative to tobacco…and for us, we look at the entire value chain" (ZARI). Reference was made to a new soya processing plant
12
that would cater to small-scale farmers (previously a barrier for entering the soya market) and that, like tobacco processing facilities, would pay immediate cash: "You go in with soya beans, you walk out with cash" (ZARI). The absence of GMO soya would also ensure a market niche for Zambian soya exports, with the ZARI informants commenting that, with tobacco production on a decline, "the increase in soya production has been dramatic." The challenge is "to change the crop culture, especially in those areas where farmers have been growing tobacco…to demonstrate [that soya] is a good alternative crop" (ZARI).
Discussion
From a practical perspective, these findings point to patterns of arguments that can be targeted to refute their factual basis. Although facts are only part of wider discursive patterns that shape institutions, they have the potential to resonate with decision-makers and start to shift discourses. The first of these may well be inverting the economic argument by creating much more awareness of the extent of cigarette use already in Zambia, that certain government Ministries accept its growth almost as a given (desirable or otherwise), and that the costs of treating tobacco-related diseases may well offset the public revenues earned from the tobacco industry.
This second normative reversal is buttressed by a third: the findings from ZARI that soya may well be a more (or at least equally) lucrative crop for small-hold farmers presently habituated to tobacco production.
A fourth way into challenging the dominant tobacco/economic discourse is a growing acceptance that tobacco is a 'dying' industry, as concerns over health effects slowly gain broader traction, with even tobacco proponents considering a future time when people no longer smoke.
Conclusion
Tobacco leaf production and export are growing in Zambia, while the normative claim of its importance as a source of employment and revenue persists. In 2008, Zambia ratified the FCTC which requires Zambia to scale back production of tobacco. The Ministry of Health bears the principle responsibility to oversee the implementation of the FCTC's provisions. However, there are many institutional actors in Zambia's tobacco sector, each with their own mandates and priorities, some of which conflict with those of the Ministry of Health and the provisions of the FCTC. Acknowledging the reality of institutional departmentalism, the FCTC calls for governments to develop a whole-of-government approach to coordinate implementation of FCTC provisions. Zambia has not yet succeeded in coordinating such an approach or establishing functioning intersectoral mechanisms to advance FCTC compliance. There are, however, several recent shifts in normative discourse, policy and research findings that, if well leveraged, could increase intersectoral implementation of the FCTC. These shifts include the increasing number of countries adopting plain packaging laws, the loss by tobacco transnational companies using trade and investment treaty provisions to challenge tobacco control measures in cases against Uruguay and Australia, the inclusion of partial carve-outs of tobacco control measures from investment rules in new free trade agreements (such as the revised Trans-Pacific Partnership agreement, awaiting signature), and economic analyses of tobacco farming livelihoods conducted as part of our larger set of research studies involving our three African countries, that refute the economic livelihood argument that underpins much of the pro-tobacco economic arguments [
51
].
Acknowledgements
This research was supported by Grant No. 5RO1DA035158-04 from the National Institutes of Health. Its contents are solely the responsibility of the authors and do not necessarily represent the official views of the National Institutes of Health.
Funding
This research was supported by Grant No. 5RO1DA035158–04 from the National Institutes of Health. Its contents are solely the responsibility of the authors and do not necessarily represent the official views of the National Institutes of Health.
Availability of data and materials
Confidentiality requirements preclude non-anonymized interview data from being made available.
Declarations
The study protocol received ethical approval from the Institutional Review Boards (IRBs) of McGill University, the Morehouse School of Medicine (the IRB of record for the American Cancer Society), the University of Ottawa, and the University of Zambia.
Ethics approval and consent to participate
The study protocol received ethical approval from the Institutional Review Boards (IRBs) of McGill University, the Morehouse School of Medicine (the IRB of record for the American Cancer Society), the University of Ottawa, and the University of Zambia. All participants gave informed consent for this study.
Consent for publication
None required.
Competing interests
None declared.
Publisher's Note
Springer Nature remains neutral with regard to jurisdictional claims in published maps and institutional affiliations.
Open Access
This article is distributed under the terms of the Creative Commons Attribution 4.0 International License (
http://​creativecommons.​org/​licenses/​by/​4.​0/​
), which permits unrestricted use, distribution, and reproduction in any medium, provided you give appropriate credit to the original author(s) and the source, provide a link to the Creative Commons license, and indicate if changes were made. The Creative Commons Public Domain Dedication waiver (
http://​creativecommons.​org/​publicdomain/​zero/​1.​0/​
) applies to the data made available in this article, unless otherwise stated.